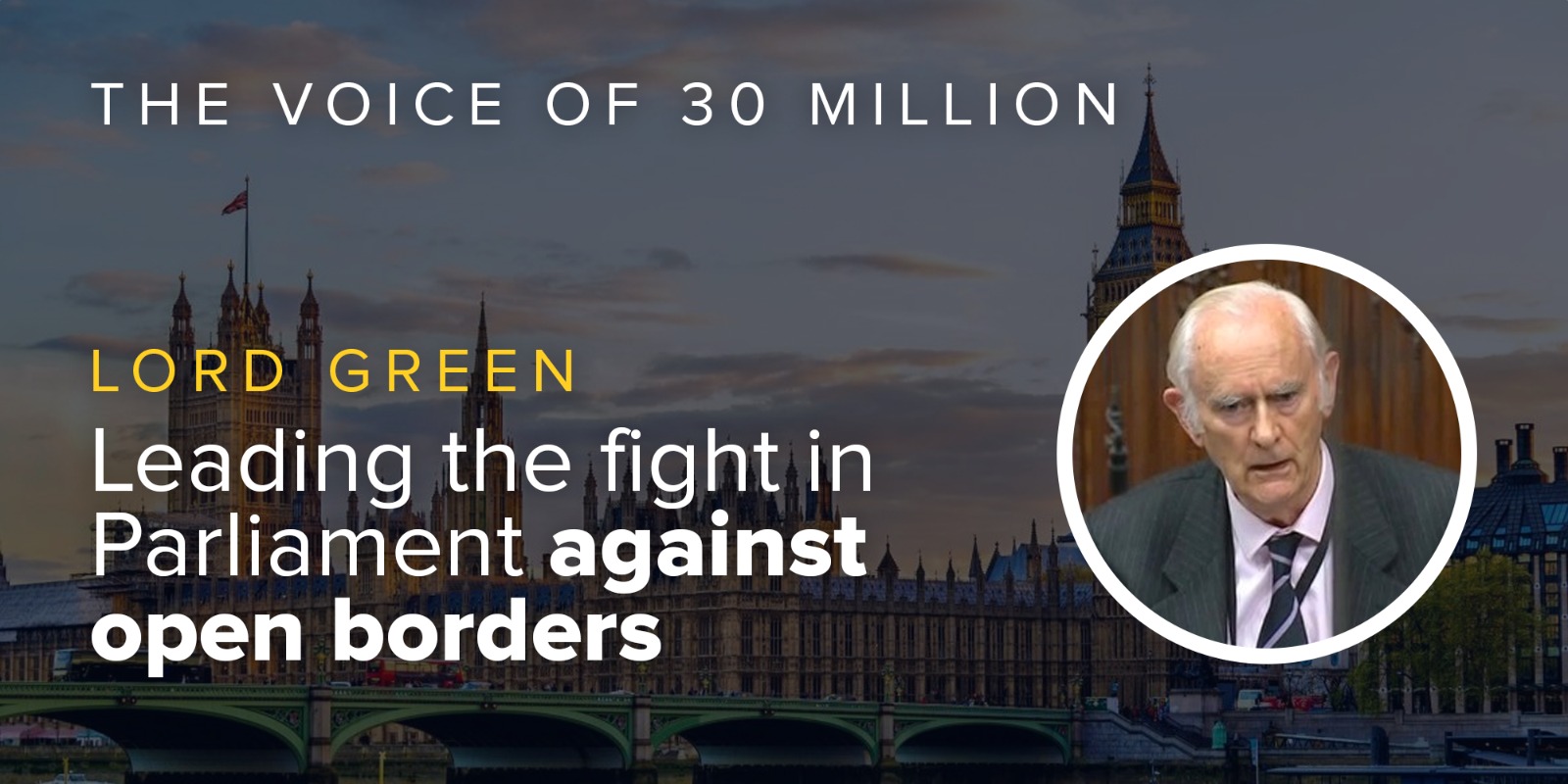 "Our asylum system is in chaos, and very visibly so," said Migration Watch UK President and Co-Founder Lord Green of Deddington in Parliament. "Large numbers of claimants are turning up on our beaches."
This week Lord Green spoke up in the House of Lords for more than 30 million Britons who are fed up with our borders and laws being so flagrantly breached on a regular basis (you can watch the full debate here from 17.27.26 or read the full debate and see Lord Green's main interventions below).
He put forward two crucial amendments to the Nationality and Borders Bill that would help end the illegal boat catastrophe in the English Channel and also stamp out asylum age fraud which harms the safety of vulnerable children in the UK (see text of the amendments here).
In a speech on 5 January (read it here) he said: "Many of those now crossing the channel are not simply seeking asylum. Most have already passed through at least one safe country. Indeed, thousands have made asylum claims elsewhere, many of which were rejected."
His first amendment (read more here) would ensure that anyone who comes to the UK without prior permission would not be considered for asylum. The debate came as the government moves to stop the public knowing about daily boat arrival numbers – you can sign our petition to express your concern here or write to your MP here.
Two-thirds (68%) of Britons think that the UK should refuse to accept asylum applications from people who have entered the UK illegally and could reasonably have claimed asylum in another safe country. This is obviously true of those coming from the safe country of France (YouGov poll, November 2021).
Lord Green's other amendment to the Nationality and Borders Bill would ensure that no asylum seeker is allowed to live amongst children if there are reasonable doubts about their age. This follows on from adults as old as 30 being placed in schools and care homes with vulnerable minors (read more here and here).
In the face of slurs and moans of derision by far-left Peers, he pointed to Home Office statistics showing the record level of asylum age fraud which puts vulnerable children in the UK, and public safety, at risk. He noted: 'In the last available year, 1,100 persons claiming to be children were found to be adults' (see our research).
Opening up the immigration system even further (as demanded by a number of wrongheaded Peers) would be 'dangerous and unwise'.
We also include below the very sensible and courageous contributions to the debate by Baroness Neville-Rolfe and by Lord Hodgson of Astley Abbots.
Below that are references to Lord Green's amendments by a government minister.
Lord Green of Deddington
"My Lords, I think that it is perhaps time for a different view from this side of the Committee. I will briefly deal with Amendments 112 and 113. Amendment 112 refers to "Refugee family reunion". It is a wide-ranging amendment, and I suggest that it is unnecessary and not very wise. We already have provisions for the family members of refugees to come here. As others have mentioned, these allow partners and children under 18 of those granted refugee status or humanitarian protection to join them here, provided that they formed part of the family unit before they left their own country. That seems a reasonable basis for this provision. Of course, the family members do not receive refugee status themselves, so their leave will expire at the same time as that of the sponsor. But individuals on such visas are allowed to work, study and have recourse to public funds, which also seems entirely reasonable.
Indeed—I will save the Minister a task—we have granted visas to more than 60,000 family members of refugees since 2010. Since 2015, over half of those were to children. This is already a very substantial move in that direction. But widening the criteria still further would, of itself, massively increase those numbers and add still further to the pull factors drawing people to the English Channel, a route that has very little support among the public.
There is a very strong case for not widening these refugee routes. In the real world, we simply do not have the necessary infrastructure, service capacity, housing or school places. Many refugees are being put into the poorest parts of the UK. In this context, the Home Secretary said to a House of Lords committee on 27 October last year:
"We simply do not have the infrastructure or the accommodation."
A Member of the other House said of his area:
"The impact on housing pressure at local level could cause further tensions if there is resentment about refugees receiving housing assistance at a time of acute … housing shortage."—[Official Report, Commons, 27/4/21; col. 40WH.]
In setting our arrangements for refuges and their families, we must surely give due consideration to their impact on our own vulnerable communities."
Lord Green of Deddington
I shall go on to Amendment 113, which deals with unaccompanied minors. The main effect of this amendment would be to put a considerable number of children in serious danger. As drafted, it applies only to children already in the EEA, but it would obviously be a major incentive for families now outside the EEA to pack their children off to Europe in the expectation that they could go on to the UK. The amendment is also widely drawn to include nieces, nephews, grandchildren, siblings, spouses—all from families that are very large in any case.
We have seen how opening this route would encourage minors to make dangerous journeys. In 2016, when there was talk of the UK taking significant numbers of children, the numbers of unaccompanied children literally doubled overnight. That is according to evidence given to the relevant parliamentary committee by the Home Office director responsible in December 2021. We have to consider the wider consequences of this, to which may be added the difficulties already facing the authorities in correctly assessing the age of those claiming to be children. We have discussed this before in Committee and we know that, in the last available year, 1,100 persons claiming to be children were found to be adults. This amendment is dangerous and unwise, and should not be accepted.
…
[In response to a point by Labour's Lord Coaker] I entirely agree about the appalling conditions in… refugee camps and the huge number of refugees that are being dealt with. The question that I and others ask is: how can we best use the resources that we can give to the people who really need it? How much more effective would it be to get aid, food and medical attention into these terrible camps, rather than spending huge sums of money on children here who cost the same as a term at Eton?
[In response to a point by Baroness Jones of Moulseecomb] I see these issues from a policy point of view, not just a legal one. The fact is that our asylum system is in chaos, and very visibly so. Large numbers of claimants are turning up on our beaches. The Government are seeking to tighten the asylum system. That does not seem to be unreasonable, and I very much agree with the noble Lord, Lord Hodgson.
Baroness Neville-Rolfe (Cross-Bencher)
"My Lords, I will speak to Amendment 193 in my name, and I am grateful to the noble Lord, Lord Green of Deddington, and my noble friend Lord Hodgson of Astley Abbotts for their support. Indeed, I should say that I am grateful to the noble Lord, Lord Green, more broadly, as he has been kind enough to speak more brilliantly than I could have done to amendments in my name during my lonely period of Covid isolation. I am also grateful for the good wishes of others in my absence.
Noble Lords will know of the importance that I attach to numbers and to reporting in all Bills that we scrutinise in this House. My Amendment 193 would require the Secretary of State to ensure that information is regularly published on immigration, including data on both asylum and other immigration—just to clarify to the noble Lord, Lord Paddick—and also weekly figures on those entering the UK across the English Channel. I note that I might have drafted that more generously to include other sea routes used by small boats bringing migrants to the UK, as the dreadful people smugglers shift to any viable sea route.
I have tabled the amendment for two reasons. First, many years ago when I was the home affairs adviser in the Downing Street Policy Unit, I discovered just how difficult it was to get up-to-date figures out of Croydon. The International Passenger Survey improved things, but I believe that it is no longer routinely completed at UK points of entry. I need to understand from my noble friend the Minister what data the department is now collecting on immigration and asylum, how often this is published and how up to date it is when it is published. Since Brexit, the system has changed. It makes it doubly important to have proper data, and to have it regularly—I think there is agreement across the Committee on that. I worry that that is now lacking. This matters, whatever your position on immigration. It is vital to have adequate provision of housing, schooling and other aspects of the care and employment of migrants. We also need to know how the population is growing or steadying.
Secondly, there have been reports in the media that the regular daily or weekly count of migrants crossing the channel might be discontinued, possibly as part of a move to give the Royal Navy control of enforcement. I have no issue with the latter—my son is in the Navy Reserve and the British Navy warms our hearts. However, I cannot accept this needless reduction in transparency.
It is too late to argue about what has been said by the previous speaker, but I have sympathy with some of the amendments in this group, in so far as they Toggle showing location of Column 1548relate to the provision of proper data. Everyone—from the Secretary of State herself to hard-working Members of this House—needs to have reliable and regular facts. Brexit is an enormous change and we need to be sure that the flow of migrants—some welcome, some less so—is turning out as anticipated."
—–
"…My Lords, I rise to support Amendment 151, which is in the name of the noble Lord, Lord Green of Deddington.
I think it is fair to say that I have been utterly appalled by the number of asylum seekers pretending to be children—more than 1,100 migrants in the 12 months to September 2021, according to Migration Watch. I understand that this represents a big rise in this fraud, with 66% of concluded decisions in the year to September 2021 being persons who are 18 or over. This is despite the fact that many arrivals arrive without documents. The number will of course grow as the numbers across the channel in boats grow—assuming we can get at those numbers.
There are also substantial incentives for adult asylum seekers to be treated as children, such as the granting of housing and wider support. However, it is the wider implications that are worrying me. Mature boys put alongside vulnerable girls in schools can wreck their progress and even lead to abuse. Mixed ages in social care are a recipe for disaster. And it can be worse than that: the Parsons Green bomber pretended to be 16 when he was much older.
The noble Lord, Lord Green, tabled his amendment because he believes that the system for checking the age of asylum claimants is so loose that it gives the benefit of the doubt to those saying, without proof, that they are minors. So I think there is some agreement that there is a problem here. But all of that is a long way of saying that we must have an extremely rigorous system of age assessment, and I look forward to hearing from my noble friend how this will be achieved in practice. I particularly support new subsection (3) proposed by Amendment 151 which, if adopted, would prevent those of undetermined age being placed alongside minors in schools or accommodation, because this is at the heart of my concern.
From listening to today's debate, it is obvious that this is an area of widespread concern—and for different reasons, depending on your perspective. I therefore tabled Amendment 151A, which would require a review of the age assessment provisions after two years to ensure that they are effective in providing a robust system of age verification. A report will be made to Parliament so that we can all assess progress. I hope that this simple idea will find favour with the House."
Lord Hodgson of Astley Abbotts
"I think it is unfair of the noble Baroness, Lady Bennett of Manor Castle, to disregard Migration Watch's evidence in the off-hand way that she does. If she thinks it is inaccurate, that is one thing, but as an organisation it produces figures for which there is an evidential basis. It should not be disregarded just because it raises uncomfortable truths.
"I understand the ethical concerns raised by the noble Baronesses, Lady Lister and Lady Neuberger, and others. On the other side of the scale is the question of maintaining public trust and confidence. We have a system that works clearly. It is important that we should bear that in mind, so the provisions of Amendment 151 seem to have some sense. In particular, I think that my noble friend Lady Neville-Rolfe's suggestion of a review when we have had a chance to see how it all works, watch the evidence, hear the experts, look at the problems, and see what works well or not so well is an excellent idea. I therefore hope that the Government will think about Amendment 151A as providing some bridge between the two sides of this particular argument."
Lord Stewart of Dirleton
"In relation to Amendment 151, as tabled by the noble Lord, Lord Green of Deddington, and spoken to by my noble friend Lady Neville-Rolfe, clear safe- guarding issues arise if a child is inadvertently treated as an adult and, equally, if an adult is wrongly treated as a child. We say that our current threshold, which specifically deems a person to be adult when their physical appearance and demeanour very strongly suggest that they are significantly over 18, strikes the right balance, and it was deemed lawful by the Supreme Court judgment in the case of BF (Eritrea). Those who do not meet that threshold are given the benefit of the doubt and afforded the same entitlements as a child. That ensures that our obligations are clear when seeking to safeguard and protect the welfare of children. I am sympathetic to the impulse that prompted this measure."
Home Office Minister Baroness Williams of Trafford
"… On the point about decency and compassion, Amendment 112 aims to expand the scope of the refugee family reunion policy. Under that policy, we have granted visas to over 39,000 people since 2015, over half of them being children, as the noble Lord, Lord Green of Deddington, pointed out. So, to answer the noble Baroness, Lady Jones of Moulsecoomb, we have looked into our hearts. We already have several routes for refugees to bring family members to join them in the UK, and it is important to carefully consider the impact of further amending our policy."
"Family unity is a key priority, but noble Lords will know that we have a range of aims further to this, including ensuring that we have reasonable control over immigration and that public services such as schools and hospitals—and I think that it was the noble Lord, Lord Green of Deddington, who talked about the infrastructure of this country—are not placed Toggle showing location of Column 1474under unreasonable pressure. However, I recognise that in some cases there will be exceptional and compassionate circumstances which warrant a grant of leave. To answer the noble Baroness, Lady Ludford, the guidance on exceptional circumstances will be published in due course. That is why our policy ensures that there is always discretion to grant visas outside the Immigration Rules, which may cater for the sorts of cases that do not immediately fall within our legal framework."