The UK's population soared by 3.5 million in a decade
Enforcement collapsed. Population soars. Voters held in contempt
Earlier this week the first results from the 2021 census were published. Our initial reaction was, wow! (See our summary and press comment). The numbers really were astonishing. The population of England and Wales rose by a staggering 3.5 million between 2011 and 2021, that's a 6.6% rise in just ten years. Given that we have previously shown that immigration accounts directly and indirectly for more than 80% of the rises in our population (see papers here and here), it is clear that at a conservative estimate, some three million of the 3.5 million, is due to immigration. Indeed, there are academics who say that in recent years, nearly all the population increase resulted from immigration and children born to immigrants.
For a deep-dive into the census figures please do read this wonderful piece in the Daily Mail by the peerless Stephen Glover, in which he cites the 'excellent Migration Watch's' research. As we repeatedly say, our services, NHS, schools and infrastructure are under sustained pressure from overpopulation. Despite this, the government has created a new visa system that makes it easier for people from 80% of the world's countries to come here and work. All this under the banner of 'take back control.' The public are not stupid Mr Johnson. Get a grip of immigration before it's too late.
In other news, it has been reported that deportations of foreign criminals have plummeted while vexatious human rights challenges to removals are on the rise. With all the head-spinning about Rwanda and the government's proposed Bill of Rights, we hear very little from the media and political class about the serious risks posed to ordinary citizens by dangerous foreign criminals being allowed to roam free in unsuspecting communities as immigration enforcement collapses and borders are there in name only.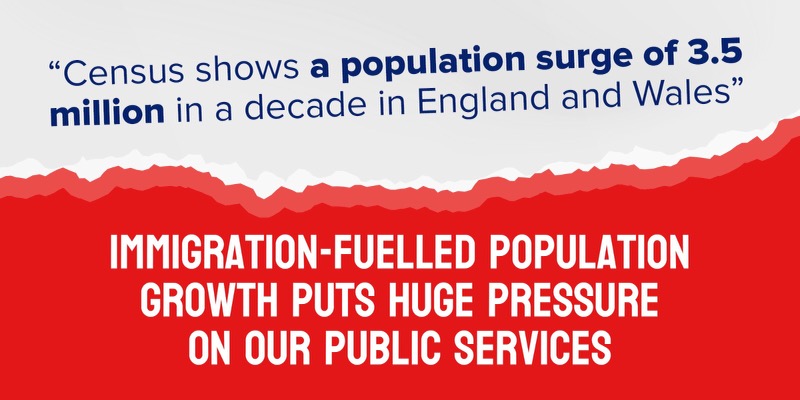 Blog of the week
Shameful Government Inaction Following Bomber's Asylum Deception
To illustrate just what is at stake if we fail to clamp down on illegal immigration or deport dangerous people, please see our blog on the Liverpool bomber Emad Jamil Al-Swealmeen. The 32-year-old Al-Swealmeen (who grew up in Iraq) is believed to have had two separate asylum claims rejected in 2015 and 2017. Details released in January 2022 showed how Al-Swealmeen told obvious lies in an attempt to stay in the UK. Even the BBC said this raised questions about why he was not removed. Despite being rejected for asylum and convicted of a crime involving a knife, no action was taken to protect British citizens. Read our full blog here. 
Migration Watch in the news
We have been in high demand again this week by the nation's media. See below:
Telegraph: Deportations of foreign murderers at record low thanks to human rights challenges
'Collapsing enforcement and the present border chaos threatens the safety of families.

'As removals of high harm individuals plummeted, the number of serious foreign criminals living in communities has more than doubled.'
Daily Express: Europe's secret court exposed: OWN judge breaks cover on Rwanda flight row 'Name lawyer!'
'All courts should be there to see that justice is done. If we don't know how decisions have been reached, how can we be confident justice has indeed been reached?

'If the ECHR prevents us from having the immigration policy we think is right for the UK, then we have to consider leaving it. Everything that has happened over the last few weeks points to that direction.

'It is not the appropriate mechanism for handling immigration cases. The ECHR construct was put in place for different issues, for different times. The World has moved on.'
And see here our official comments on the first census results showing overpopulation and our response to the figures for soaring student visas:
MWUK: The first results of the 2021 Census
'The census confirms huge population growth, considerably higher than the growth rate of countries such as France and Germany.

'There are large impacts on areas up and down the UK, with mounting pressure on services, GP places, housing, roads and schools. Parts of the country have seen population rises in just a decade of around 20%. Cities in the East of England such as Bedford and Peterborough, and Tower Hamlets in London, have experienced astonishing increases.

'With almost all recent population growth due to uncontrolled, mass immigration, England is one of the most crowded nations in Europe and London is the most gridlocked city on the planet.

'Over half the public say immigration has been too high. The case for bringing immigration down by a lot is overwhelmingly strong. The government must listen.'
MWUK: Government hits absurd target for 600,000 overseas students a decade early
'The UK is in the midst of a huge rise in immigration of which the substantial increase in overseas students is a chief driver. The recent major loosening of student controls could mean the return of large-scale abuse that the government spent years cleaning up.

'Instead of opening the gates further, Ministers must bring immigration under control so as to ease pressure on communities, housing and services, and – above all – honour their pledge to reduce overall inflows.'
Make your voice heard
Another quick reminder to write to your MP. Thank you to all our supporters who write in to tell us they have contacted their MP. The responses are often bland and evasive, but there is a growing realisation that the public are not fools, they know what is going on and are angry. The politicians are beginning to cotton on to the fact that their abject failure to deal with runaway immigration will come back to bite them where it hurts most, the ballot box. Do write and remind them that only a significant reduction in immigration and a restoration of sane border security will earn your vote.