New Home Office statistics provide even more cause for thinking that the UK's asylum system is rapidly becoming unfit for purpose. The number of cases waiting for over a year to be processed has risen to nearly 26,000 out of just under 52,000 claims, and now account for half of all applications awaiting an initial decision.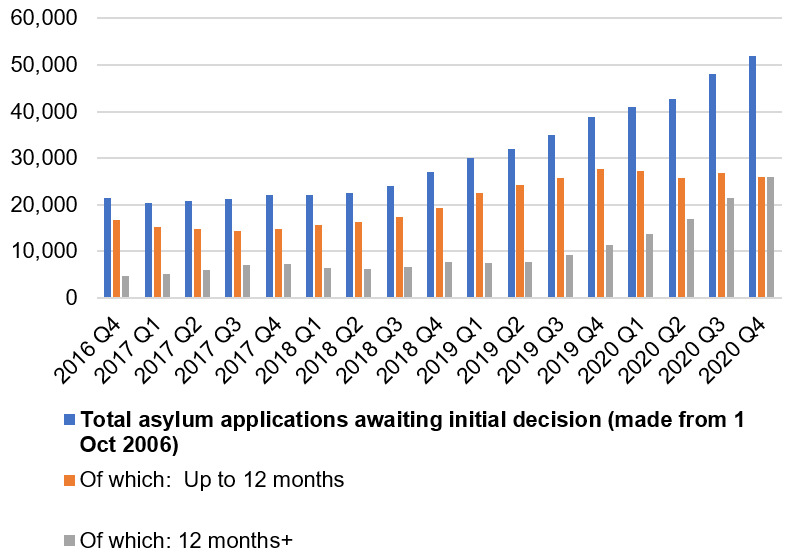 Indeed, the system is sinking in the midst of ballooning backlogs and budgets, falling productivity, a torrent of phony claims, and disintegrating enforcement (read our paper). 60,000 are now housed in asylum accommodation – equivalent to a small city – including thousands of failed applicants (the government is scared to reveal exactly how many because they know the public would be outraged) – see our piece.
The truth is that a steadily diminishing number of those whose claims are rejected are returned to where they came from (see short briefs here and here). For those whose claims are accepted, as they increasingly are (especially after the Gordian appeals process) beneficiaries can then joined by further family members, even in addition to dependants they arrived with.
As we have long argued, (e.g. see here) without a firm policy to return failed asylum seekers, and prevent settlement by those coming from safe countries, numbers will continue to rise; Consistent and firm enforcement, supported by our courts, is the only way to end the abuse asylum abuse and stop illegal Channel crossings.