Ex-senior government officials say there are likely to be more than a million illegal migrants in the UK and that a government estimate found that between 150,000 and 250,000 people fail to leave the UK when they should each year or illegally enter (pp.27-28 of report by think tank Civitas).
The number of illegal migrants hiding in the back of vehicles increased by a third in 2019 (to 10,000) and illegal Channel arrivals are 29 times those recorded three years ago – an all-time record high.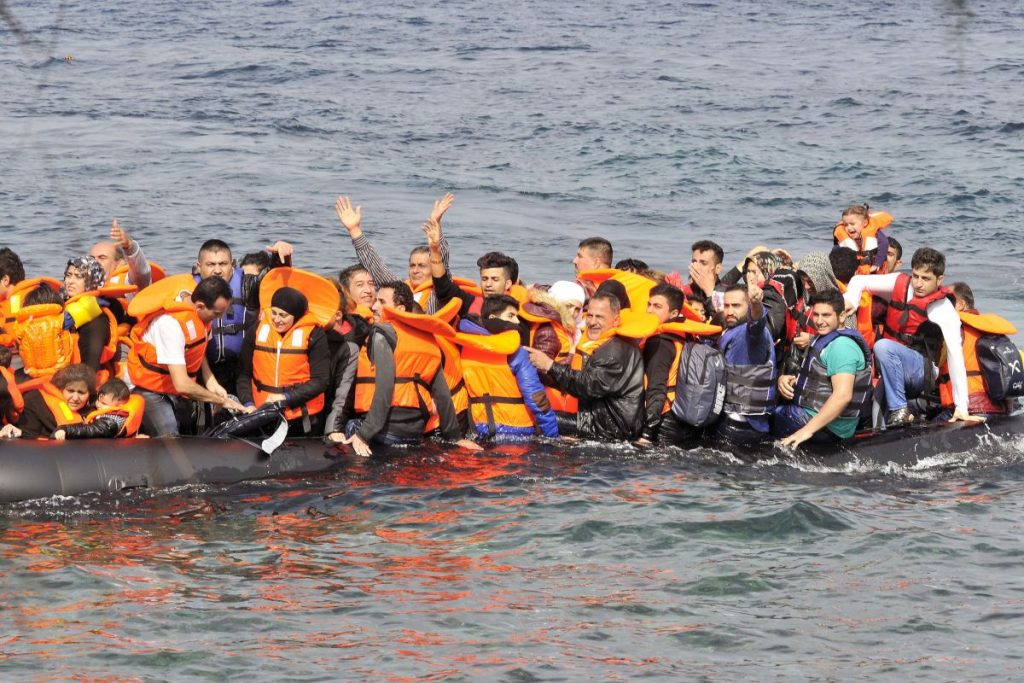 This – and the significant problem of hundreds of thousands who overstay their permission to be in the UK each year – has been worsened by a serious and deliberate weakening of immigration enforcement.
Indeed, the border workers' union boss has been quoted as saying that illegal immigrants 'have very little chance of being caught' due to a lack of resources and workforce cuts.
Illegal immigration poses a security and health risk – amounting to a public safety nightmare – as it is impossible to properly verify the identity of most of those who enter without authorisation.
Especially, given the worldwide pandemic, the government's failure to stop illegal arrivals is dangerously negligent. Home Office personnel confirmed there have been 122 cases of Covid in hotels housing asylum seekers, which accommodate many illegal entrants and failed claimants (see Q49 of link). According to one MP, the Home Office then 'move[d] people who were positive for coronavirus out of a hotel and into other parts of the country, including Hammersmith, without informing the local authorities, thereby spreading the virus across the country'. In another case, people confirmed as having Covid-19 were moved to Coventry from Birmingham.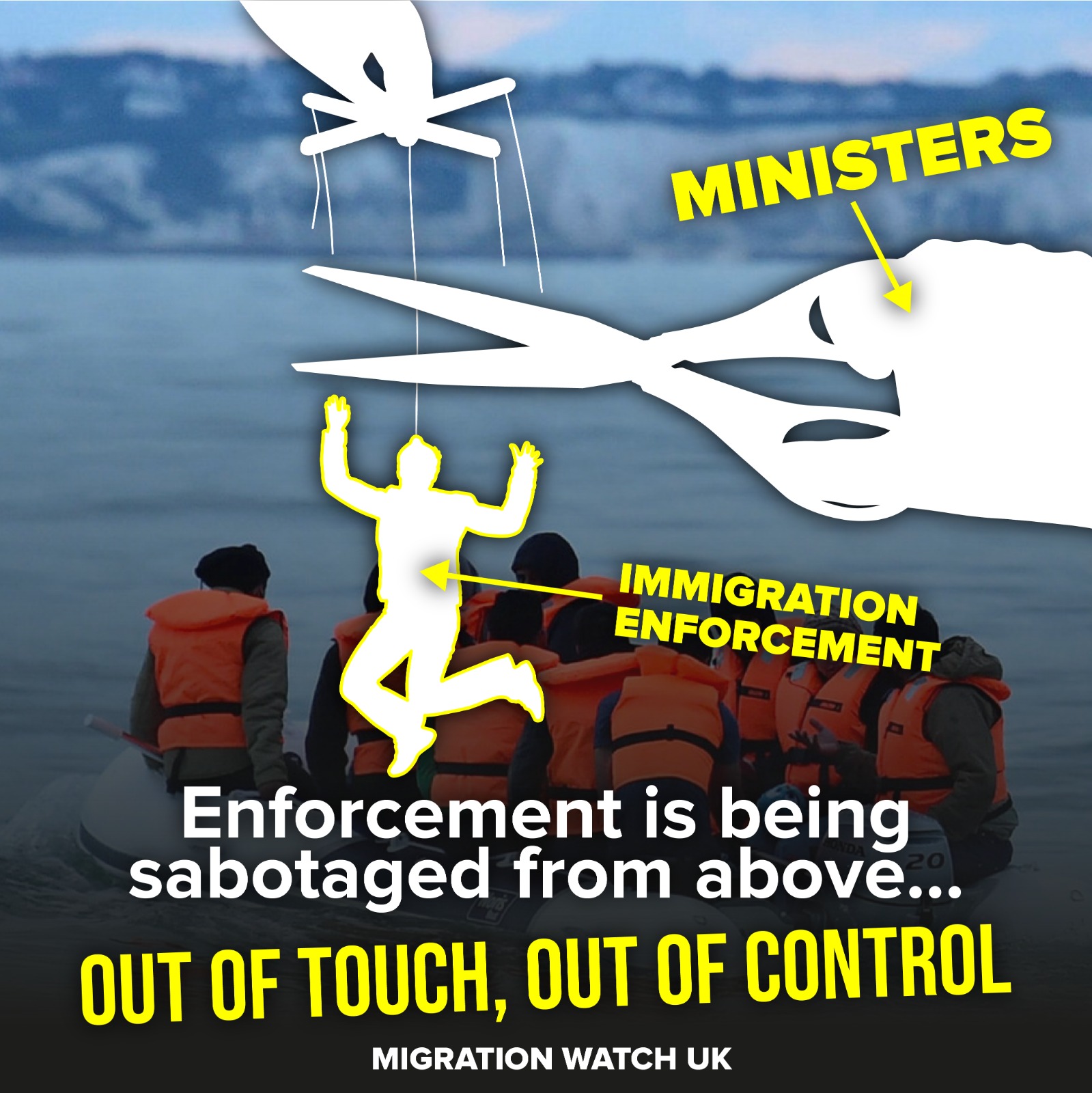 Public safety nightmare
It is the general practice of those on small boats, for example, to destroy documentation prior to arrival (says the government's own Channel threat commander), and the Home Office is not even completing proper fingerprinting checks before people are being released into the community, with a great many disappearing (there were 56,000 absconders in late 2016) according to the independent Borders watchdog.
In this context, it is worth noting that MI5 is aware of more than 43,000 people who pose a potential terrorist threat to the UK – many of them outside of the UK (see this article).
Since much of the collapse in enforcement is the result of deliberate policy even as ministers spout tough rhetoric, it can only be seen as sabotage from above of the dedicated staff who work hard every day to try and keep our borders secure and the community safe.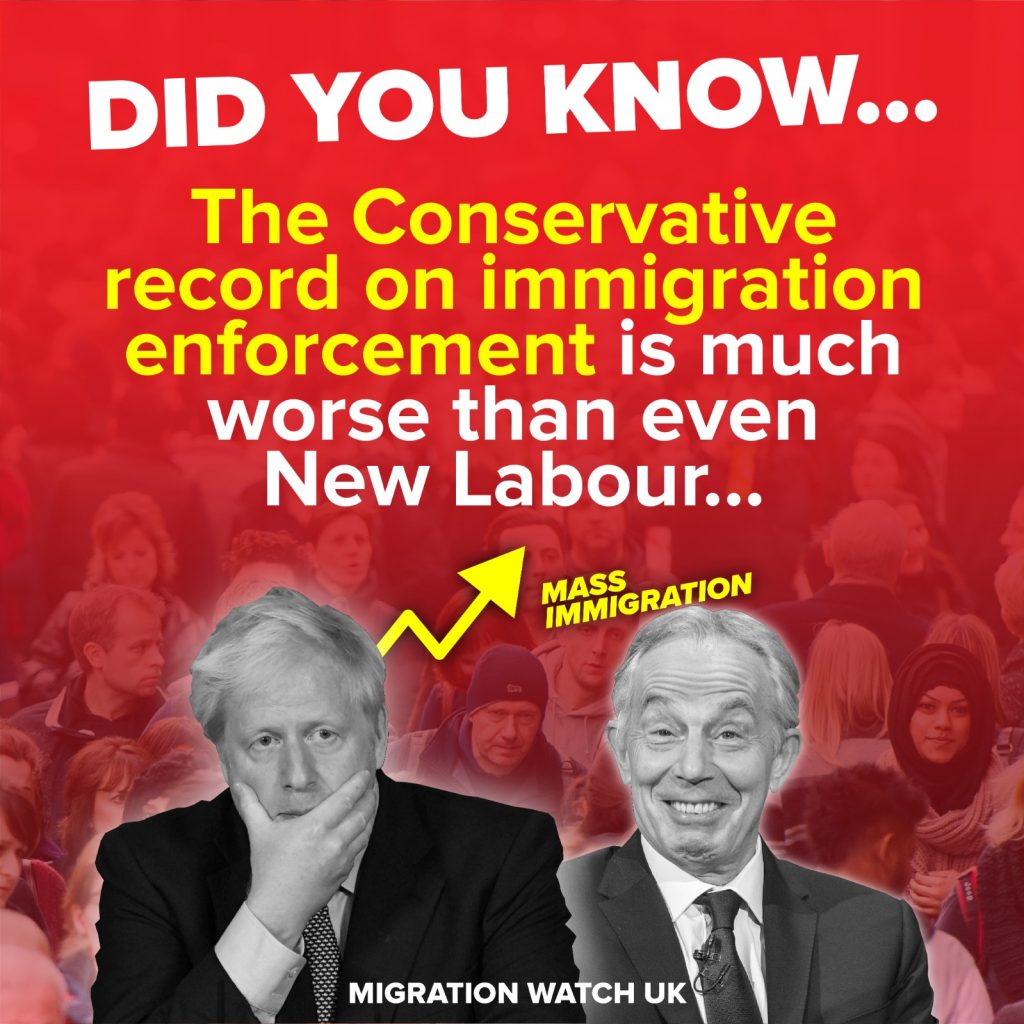 Worse than even under Labour
In fact, the Conservative record on enforcement is much worse than Labour's. The graph below shows the total number of removals of those with no right to be in the UK since 2004:
The graph below shows that the performance is even worse with regard to removing failed asylum seekers. It should be borne in mind that clandestine entry is the most common form of arrival in the UK for asylum claimants.
The result has been to encourage criminal traffickers and would-be crossers in the belief that such trips will be successful, with those entering the UK via this route unlikely to be removed after arriving, even if their asylum claim fails.
We point to four concerning trends:
• Savage cuts in enforcement resources. The border workers' union boss has been quoted as saying that illegal immigrants 'have very little chance of being caught' due to a lack of resources and workforce cuts. This is not surprising as there was £47 million less in the 2019-20 overall net budget for enforcement than in 2015-16 (NAO, 2020, p. 20) and the ICIBI has pointed to instances where resources are being stretched with a problematic impact on effectiveness (ICIBI report, Nov. 2020). The ICIBI also said that port staff had suggested that Border Force seemed to have been 'resourced to fail' by the previous government (ICIBI report, Nov. 2018, p. 16).
• Savage cuts in enforcement staff, pay and training. Between 2015-16 and 2019-20, Immigration Enforcement reduced its headcount by 5%. The volume of work means that 'some opportunities to apprehend people who are in the UK illegally, or to stop clandestine entry, may be missed'. Meanwhile Immigration Compliance and Enforcement [or ICE] teams… 'completed fewer visits in 2019 than in the previous four years'. NAO adds that ICE teams 'do not have the capacity to undertake all tasks requested of them' (NAO,2020, pp.32 & 47).
• The gutting of measures to prevent illegal immigrants disappearing into the community. As the government has said: 'Detention plays a key role in securing our borders and maintaining effective immigration control'. Given this, it seems contradictory for the HO to have said that it is 'delivering a reduction… in the numbers of those detained'. Detention is vital for guarding against absconding and should be used more, not less. A 2017 ICIBI report revealed (p. 23 of link) that there were 55,974 absconders among the reporting population. The ICIBI also recently said some Home Office staff 'felt that more use could be made of detention for small boats migrants who were considered to be removable'. The government spent £40 million (21%) less on detention in 2019-20 than in 201516. The detention estate has been reduced by 40% since 2015 (NAO, 2020, p. 37). Also relevant is the failure to replace the detained fast-track appeal process which meant asylum claimants could be detained if a quick decision was likely. Appeals could be completed within 12 working days from the moment of the initial decision until conclusion of their First-tier Tribunal appeal. This process was suspended in 2015 following a court judgment. However, amended proposals were never enacted. If it wished, the government could amend the law to reintroduce this but it is scared of doing so.
• A serious drop in removals of failed asylum claimants and other illegal immigrants – Declining use of detention may, with other factors, have helped to lower the number of removals of failed asylum claimants. Enforced removals of failed asylum claimants fell from 6,432 in 2009 to 1,742 in 2018 (HO statistics). The figures for 2019 and 2020 are not clear as the HO appears to have stopped separating its summary returns data into distinct asylum and non-asylum categories. Despite this, it seems likely that asylum-related removals fell further during 2019/20. It is also notable that only 24% of the total of 7,319 enforced removals in 2018 were asylum-related – a decline from when they accounted for more than half of total enforced removals during the period between 2004 and 2006 (HO statistics). In the year to March 2020 total enforced returns fell to the lowest level since records began (6,778) – 21% lower than the previous year (HOstatistics). Home Office announcements also suggest that only a tiny fraction of those who crossed since the beginning of 2019 have been returned to European countries. However, the Home Secretary noted in July that even if people are removed back to Europe, they often try and succeed in getting into the UK again.