Both legal and illegal immigration are out of control
The double-whammy of immigration betrayal
The terrible reality of the two-headed beast that is illegal and very high legal mass migration has finally hit home this week with official data showing a breath-taking rise on both fronts.
The increases were stark:
95% increase in work permits issued since 2019
81% rise in study visa grants
130% overall increase on 2019 in long-term visas
Then there was the collapse of border control – see the full summary of visa grants and asylum trends in 2022.
One thing for sure, is that with the flabby system for controlling immigration now in place, the numbers will only go higher. The sky is the limit.
The number of work visas granted last year was an astonishing 423,000, while study visas hit another record high of 485,758. While the number of study visas for dependants has risen eight-fold since 2019 and now stands at an annual 135,000 (the size of a large town). Indeed, there were more visas issued to Nigerian family members of students than to Nigerian students themselves!
When fast-track routes for Hong Kongers, Ukrainians and Afghans are included, the total number of long-term visas issued was a new record of 1,276,264, an astonishing increase of 130% on 2019.
Then of course, there is the issue of illegal immigration via small boats. The figures show that these arrivals rose by 1.6 times in 2022 compared with 2021 and by 153 times compared with 2018.
And let's not forget that nearly seven in ten of those arriving in small boats in the past five years have been adult men between the ages of 18 and 39. There was a 1,400%  increase in Albanians arriving via this route in the past year and a 500%  increase in Afghan arrivals in the space of just one year.
For a deep-dive into the state of illegal immigration into Britain, see our summary here. Remember also to keep abreast of the crisis in real time through our Channel Tracking Station.

Like most people, we have been deeply concerned about the public's safety, especially of children, when adult male asylum seekers who have hoodwinked the authorities into accepting them as children, are placed in the midst of communities and sometimes in schools. We have regularly referred to the horrendous consequences – yet the lessons are not learned, with tragic results. See our 2021 paper on this topic.
The British public never consented to sky-high immigration but have nevertheless been treated to a litany of empty promises to bring the numbers down. They now watch, open-jawed, the evisceration of border controls on the Channel. The government will pay a heavy price for their catastrophic failures to deal with both mass legal immigration and and illegal immigration.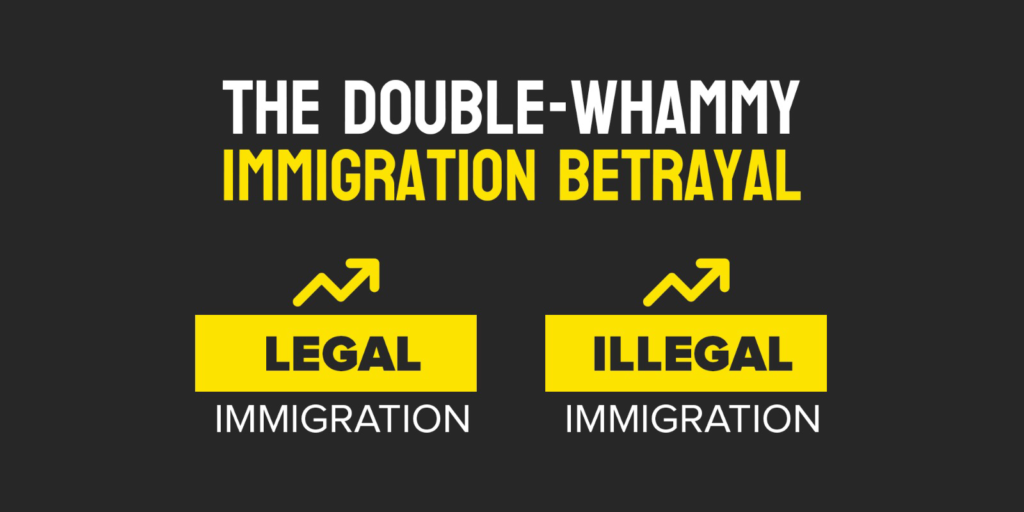 Blog of the week
98% Of Channel Boat Migrants Have No Passport
98% of the thousands who have made their way to the UK illegally in small boats via the English Channel were not in possession of a passport at the time of being processed in the UK. The finding emerged in the wake of official data being published in a Home Office  freedom of information release. The release shows that just  317  arrivals were found to have a passport at the time of being processed in the UK between January 2018 and June 2021, during a period when at least 16,500 were detected arriving. See the full blog here.  
Migration Watch in the news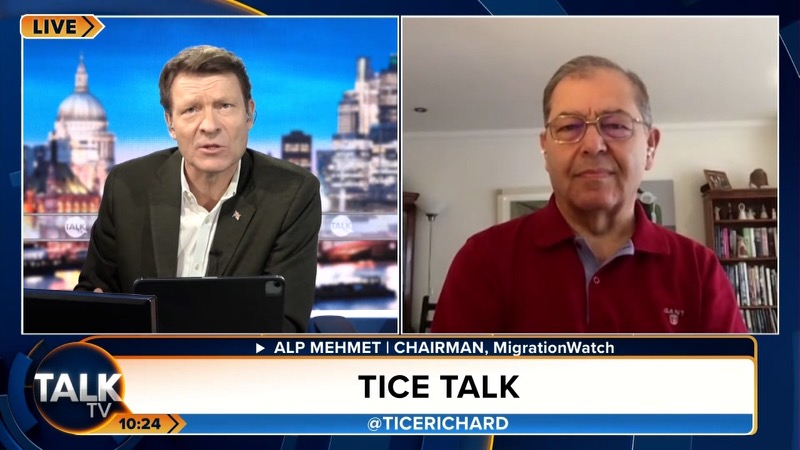 Financial Times: UK asylum backlog hits record 160,000
Migration Watch, a think-tank that has lobbied for lower migration, said the government would "pay a heavy price for failing yet again to control and reduce immigration, despite their repeated promises".
Talk TV: Today's stats show that illegal immigration is out of control
'It doesn't actually remain bad, it gets worse, that's the problem.'
And see below for our researcher Jeremy Hutton doing the rounds on the national news to discuss the plans to tackle the asylum backlog:

Sky News: UK asylum backlog tops 160,000 for first time since current records began
'By fast-tracking individuals from these countries you're effectively putting a green light up that makes it much more welcoming to people to make that long trip to the UK in the hope of gaining asylum.'
Channel 5: UK asylum backlog hits a new record of 160,000
'The asylum backlog has been rising and rising for years now and the Home Office has simply been failing to allocate the resources adequate to slow down that rise first of all and then actually reduce the number.'
BBC: Home Office figures show that the asylum backlog is at a record high
'People do slip through the cracks and if we are not going to properly scrutinise their record and their story—which the face to face interview is a crucial part of—then more people could slip through those cracks…'

Telegraph: Asylum 'amnesty' to clear backlog of 90,000 claims
'This is an amnesty in all but name. The message to the criminal gangs is, if you get your clients to destroy their ID and claim to be from a 'high success' country, they'll be tick-boxed into the UK.
'The triple killer of Tom Roberts came from such a country, and had been denied asylum in Norway before our already lax system allowed him to con his way in. The Government's plan is a dangerous folly. The Home Secretary should think again.'
GB News: Outstanding asylum seeker claims pass 150,000 for the first time in 20 years
'Yep, the numbers are ballooning but it was always inevitable that the numbers in the backlog were going to grow.'
Talk TV: The Channel crisis is out of control
'When those who are coming in without papers, no identification, are suddenly plonked in the midst of communities with young people around—that's wrong.'
Telegraph: Asylum-seeker backlog passes 150,000 mark as upkeep bill hits £2.1bn a year
'The ballooning of the backlog is inevitable. With the rate of illegal Channel crossings already greater than it was in 2022 and the level of returns minimal, the numbers crossing will go on increasing.
'The only solution is to stop the illegal influx. What the Government must not do is reduce the backlog by effectively declaring an amnesty in all but name. That would prove disastrous.'
Make your voice heard
A massive thank you to those who have written to their MP using our campaign template. For those who have not done so, you can do so here.
Remember that the record level of immigration, and deadly asylum chaos, that we are experiencing now are no accidents. The government must have known their policy changes would make it easier for millions of people to stay long term or indefinitely. Yet we were promised 'firmer control' and 'reduced immigration'. This was, to say the least, being economical with the truth.