The battle for border control continues
We won't let elites dodge the mass immigration crisis
As the followers of Migration Watch know, we have been campaigning for effective border control and sustainable immigration levels for over twenty years. Our reputation, built on rigorous research, careful analysis of migration trends and accurate projections, is unique. We have at times been a lone voice warning of the hugely damaging impact on Britain and British society that mass immigration, born of shortsighted (at times cynical) policies, would inflict on the country. In 2002, our founders Lord Green of Deddington and Professor David Coleman of Oxford University forecast that Britain's population could leap by an unprecedented 2 million people in the space of a decade. In fact, in the past two decades, the population has increased by around 8 million, over 80% of which can be attributed directly or indirectly to mass immigration. For a full breakdown of the scale and pace of immigration since 1997, see our research here. While Tony Blair's policies opened Britain's doors to ever-greater levels of immigration, successive governments have abjectly failed to stem the massive inflow of people. As Philip Johnston pointed out in a brilliant piece in the Daily Telegraph this week (which has already garnered over 2,400 comments), Migration Watch UK has been working tirelessly for the last two decades to keep mass immigration on the political agenda.  
As we have mentioned in our previous two emails, our Chairman Alp Mehmet has written personally to Conservative leadership candidates Liz Truss and Rishi Sunak urging them to address mass immigration, beyond illegal immigration on the Channel. Alp has still to receive the courtesy of a reply from either. They seem to have adopted Tony Blair's strategy for the 2005 election of 'confess and avoid' (p.524, T Blair, A Journey). They have acknowledged the problem of illegal immigration (as did Blair) and have implied support for the Rwanda deal and possible withdrawal from the ECHR (Blair proposed ID cards), while totally avoiding any discussion of wider immigration. There is still time to force them to commit to much lower levels of immigration. We will continue to press them for a response to Alp's letter. And if you have the opportunity, do please put the same question to Ms Truss and Mr Sunak.
Please also read this local editorial from Northern Ireland, which rightly points out that the heartbreaking stories of individual migrants who come to Britain illegally, are separate from the question of the country's right to police its borders and protect its citizens. We couldn't have put it any better ourselves.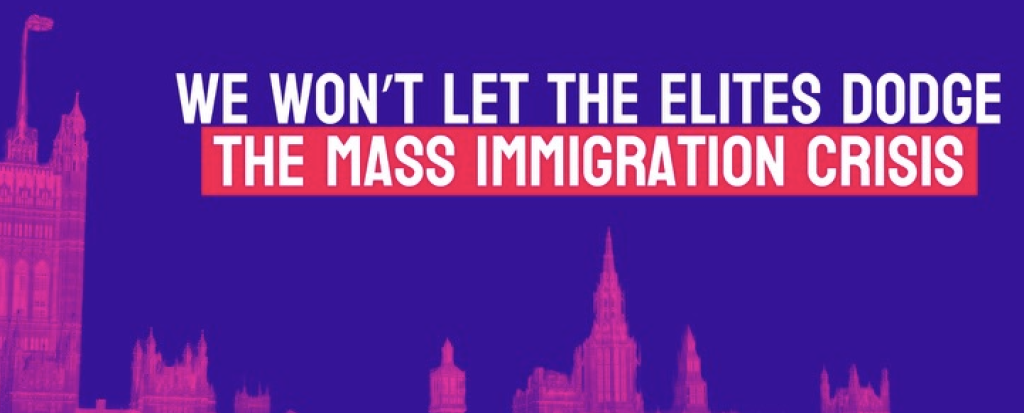 Blog of the week
Surging Illegal Boat Crossings Drive Record Spike In Asylum Age Fraud
More than 1,100 adults were found to have falsely claimed to be children in year to September 2021. Where age was disputed and resolved, 66% were found to be adults. The number of adults found to be pretending to be children rose by 3.5 times in a year as Channel crossings surged. Once again, what the politicians promise, and what actually gets delivered on the ground, are very different. Backbone and political will to do the public's bidding – is that too much to expect of our political elite? Read our full blog here.  
Migration Watch in the news
It has been another busy week in the press. See below:
Mail Online: Police checks on Russian and Chinese nationals are AXED: Monitoring scheme for residents from 44 countries gets secretly ditched because it is 'no longer effective' as Home Office already has the data
'This raises public safety and security issues and the Home Office should think again.
'To scrap such checks on Russian and Chinese nationals now is insane; not only wrong but dangerous.' 
GB News: French police foil migrants attempting to cross English Channel by puncturing boat and destroying engine
But Alp Mehmet from Migration Watch said he believed the tactic 'smacked of desperation.'
'We've gone from drones to stabbing inflatables. I doubt it will have much impact beyond just slowing them down. They'll go back, regroup and find another vessel.'
And see here for Philip Johnston's piece tracking our battles and heaping generous praise on our work over the past 20 years.
Telegraph: A conspiracy of silence about the impact of mass migration has cost Britain dear
'Twenty years ago this week, a new campaign organisation made its presence felt with a prediction that rocked the political establishment. Migration Watch UK said that  Britain could expect more than two million immigrants every 10 years for the foreseeable future unless curbs were introduced.' 
Make your voice heard
Our own story over the last two decades is testament to the power of determination, truth and persistence. The government has lowered skills and qualification thresholds for those coming to work and through the points-based system have effectively handed control to employers who no longer have to look locally before going overseas. Nor is there a limit to the number of (cheaper) workers they can bring in. Furthermore, the level of income required for those wishing to have dependants join them is significantly lower than it needs to be. And, it is now significantly easier for overseas students both to come and then to stay on. They can now stay on for two years at least on completion of their studies – even if it is only to stack shelves. In fact, Home Office figures have shown that some 20,000 of those granted settlement each year originally arrived for study or as the family of a student. And yes, the Channel is in the midst of a crisis of our own making (assisted by the the French and EU) but tough sounding rhetoric about the ECHR and Rwanda is neither an answer to the problem nor touches on the much bigger issue of the scale and pace of immigration. If you would like to write to your MP (perhaps it is Mr Sunak or Ms Truss) about reducing immigration, you can do so here.