We won't let them keep dodging the issue
Leaders can't avoid voters on immigration any longer
Kemi Badenoch might have been knocked out of the Conservative party leadership race this week, but MPs would do well to take note of her popularity among the grass roots membership, not least because of her frankness about the need to address the scale of immigration. It was Mrs Badenoch who finally broke the radio silence that we pointed to last week, on the issue of immigration. Most of the runners were happy to go along with the government's efforts to deal with the Channel crossings and illegal immigration – one of them even went so far as to say she would pull out of the ECHR. All fine and dandy but only one of them (Kemi Badenoch) had the courage to say that the problems we faced in areas such as housing could not be solved without considering the added demand due to immigration. It hadn't escaped her that there were over a million long term visa grants in the year to March 2022 (see our summary here) and net migration of 200-300,000 per year for two decades. As our Chairman Alp Mehmet wrote in the Express earlier this week, a recent YouGov poll showed 54% of British people want immigration reduced. That is thirty million adults, including 77% of Conservative voters.  With seven out of the eight million increase in the UK's population in the last ten years (see our analysis of the latest census results here) due to direct and indirect immigration. The next Prime Minister and his or her cabinet cannot go on dodging this issue. Britain's services, schools and housing supply are at breaking point, as we head into difficult times with the cost-of-living crisis. Kemi Badenoch might be out of the race, but her courage in confronting voter concerns on mass immigration will be long remembered.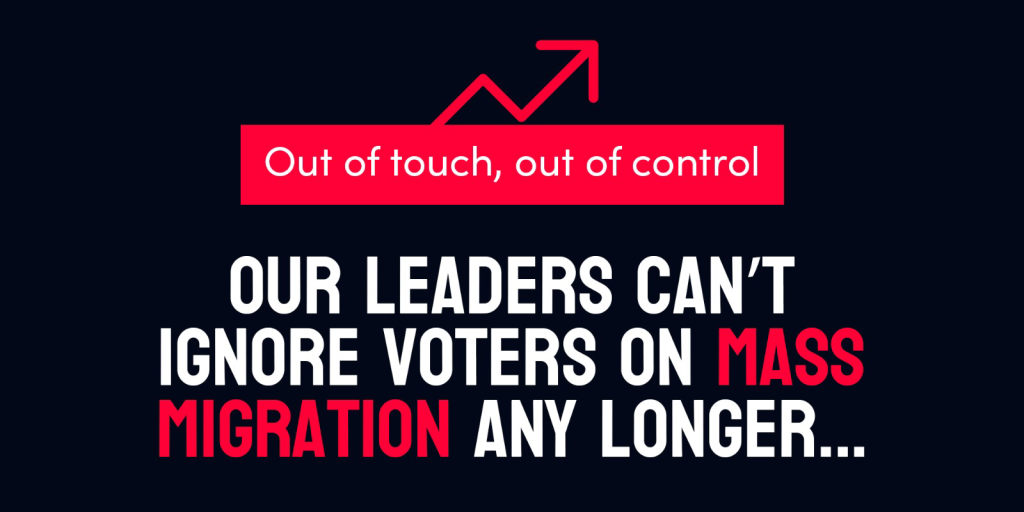 Blog of the week
Alarming Rise In Abuse Of Modern Slavery Laws
Two in three modern slavery claims made by foreign nationals in detention that were concluded between 2017 and 2019 were rejected. This rejection rate increased from 65% in 2017 to 70% in 2019. The news comes as the Home Office revealed it is considering measures to tackle an  'alarming rise in abuse of the modern slavery system, with major increases in child rapists, people who threaten national security and failed asylum seekers clogging up modern slavery system'. The number of claims by those detained either following immigration offences or as foreign national offenders has gone up from about 600 in 2017 to just under 2,000 in 2019. Modern slavery laws are there to protect the exploited and the vulnerable, and not to be used as a way staying here by those who are to be removed. See our full blog here.  
Migration Watch in the news
Before Kemi Badenoch was knocked out of the Conservative party leadership contest, our Chairman Alp Mehmet wrote this piece for the Daily Express noting that she was the only candidate with the gumption to address the problem of unsustainably high levels of immigration.
Daily Express: Kemi Badenoch is the only candidate to break silence on migration issue, says ALP MEHMET
'So far, the Conservative record on immigration has been extremely disappointing. At the general elections of 2010, 2015 and 2017 they undertook to get immigration down to tens of thousands a year but failed to do so. In the 2019 election the government promised to control and reduce immigration which, before Covid struck, was averaging about 230,000 a year. Again, they failed to do so.'
We have also featured in the national media.
MWUK: Migration Watch comment on Home Affairs Committee report on Rwanda plan
'The conclusions of the Home Affairs Committee are baffling. While the Rwanda scheme was never going to solve the problem of illegal Channel crossings, the fact is we won't know what impact it will have until those judged inadmissible are actually sent to Rwanda.
'The idea that more safe routes, for which applications may be submitted at UK embassies, would stop the boats, is for the birds. Issuing posts would be overwhelmed within hours; as happened when Western embassies offered visas to nationals of the former communist states 32/3 years ago.'
See our comment featured in this story in politics.co.uk.

Mail Online: Channel migrants landed in Britain with GUNS: Asylum-seekers triggered alerts on security databases and later vanished… and others were ARMED, scathing official report by borders watchdog reveals

'It takes only one or two really bad guys to get into the country, and who knows what they might be capable of. There should by now be the facilities and expertise available to take biometrics from Channel arrivals. But it seems to be totally out of control and a shambles.'
GB News: 'Shameful' Albanian smuggling gang boast they're 'best in France' at getting migrants to UK 'without problems'
'This is shameful. It's another example of traffickers taking the mickey and why we say the Border Force, now aided by the Royal Navy, is little more than a glorified taxi service. The fact is, we are letting the traffickers get away with it while taking in and looking after their clients, few, if any of whom, are ever removed. Border? What border? It's truly shameful.'
Epoch Times: Recruiters Warn of Damage From 'Extreme Skills Shortage' in the UK
Organisations like Migration Watch UK argue that employers need to offer more and better skills training opportunities to UK workers and that employers easily turn to workers from abroad rather than providing training or raising the pay of those in the UK. 
Make your voice heard
The calls for a weaker and looser visa regime come thick and fast every week, no doubt serving the interests of industry and the corporate world. We will continue to do our level best to make it difficult for the political leadership to ignore the profound concerns we have about our porous borders and sky-high immigration. You are doing a sterling job in helping us in that task. Thank you. Only our sustained and collective effort will make the political cadre realise that mass migration worries us all. Let's keep the issue centre-stage. Please consider writing to your MP to call for a reduction in immigration and enforcement of our laws at our borders.