New statistics released by the Home Office reveal just how costly, overwhelmed and abused our asylum system has become as illegal boat crossings have skyrocketed.
More than 60,000 have arrived illegally by boat since January 2018 and almost all claim asylum.
Here are some takeaways:
We now have the highest number of asylum claims in 20 years
The cost of asylum operations to taxpayers is now £2.1 billion per year and has nearly doubled in just one year (£5 million per day is being spent to house claimants in hotels).
The backlog of claims has now surpassed 100,000 – with 40,000 people waiting a year or more for their claim to be initially considered
The number of claimants receiving asylum handouts is now an astounding 116,000 (up from 33,000 in 2014).
This year sees the highest asylum claims since 2002, and the fifth highest number ever (the four years between 1999 and 2002 saw higher numbers, with the peak in 2002, of 103,081 applications).
Figure 1: Asylum claimants (main applicants and dependants) 1979 to June 2022 (Home Office data, August 2022).
There is also a graph below showing the rise in asylum operations costs (quadrupling in a decade).
Figure 2: Total asylum operations costs (Home Office data, August 2022).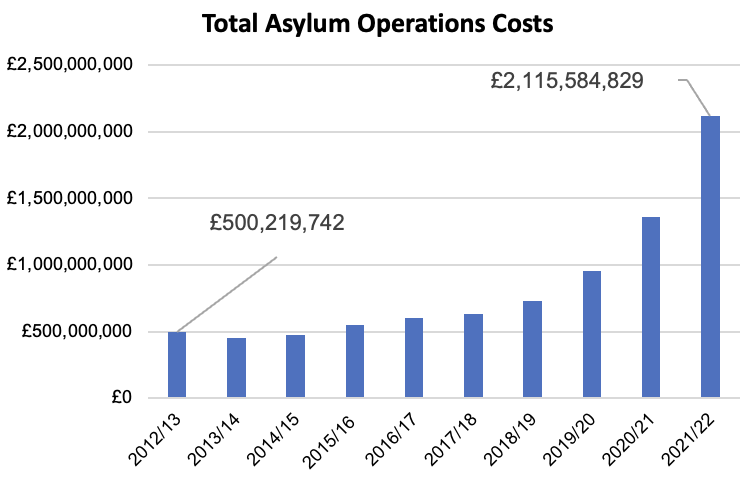 Meanwhile, the total receiving asylum support has more than tripled from just under 33,000 in mid-2014 to 116,000 in mid-2022.
And the asylum backlog of claims awaiting initial consideration has nearly doubled in just over a year and now surpasses 100,000 (see graph below).
Figure 3: Asylum claims awaiting initial consideration (Home Office data, August 2022).