They cannot gaslight us any longer
Challenge the post-Brexit gaslighting
Just when you thought this government couldn't loosen our beleaguered borders any further (with a record million entry grants handed out in the past year or so – see here) the news broke this week that British graduates are being further punished with yet another loose immigration route being opened, including into the lowest-paid jobs (see summary). This at a time when the economy is struggling to recover from two years of pandemic, millions of Brits are desperate to find affordable homes and access services and the cost-of-living crisis deepens. 'Global Britain' has become an ideological juggernaut at the expense of the people who put Boris Johnson's government in power. Of course, there has been no shortage of 'bien pensants' wrongly suggesting that mass immigration is an unalloyed good for Britain, and that these astounding record numbers are allegedly welcomed by British voters. A more accurate picture can be seen in this excellent piece by the equally excellent political scientist Eric Kaufmann, who warns (echoing our own research) that the Prime Minister has a revolt on his hands if he fails to reduce immigration. It is, after all, what people have consistently voted for. We've been saying this for a long, long time, of course, but it is heartening to see more and more key commentators and opinion-shapers (do read this brilliant comment piece by Clare Foges in The Times on Monday) joining the fray on the government's post-Brexit immigration system on which the trusting public took Boris Johnson at his word and believed him when he said it would control and reduce immigration. Last week's astounding figures exploded that particular bit of deception.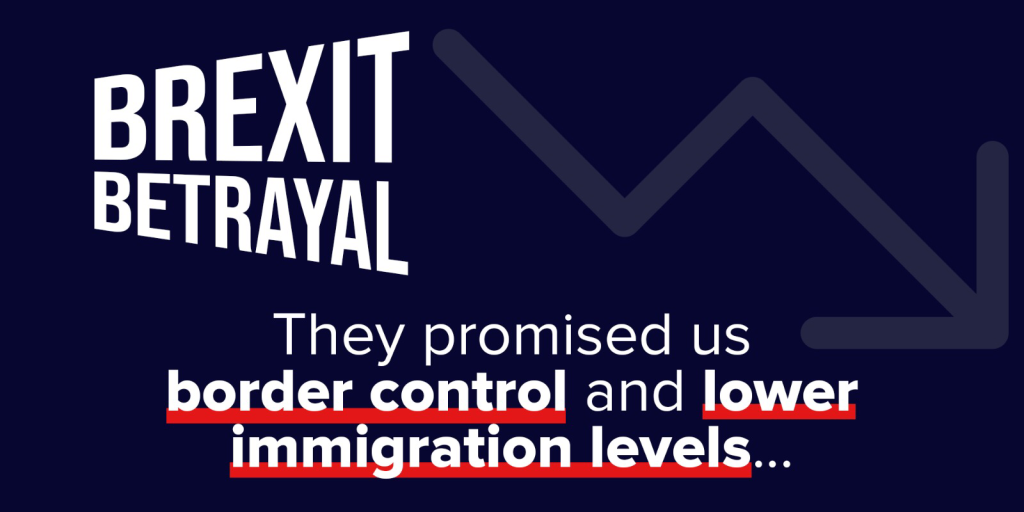 Blog of the week
Number Of Relatives Accompanying Other Migrants Nearly Triples To 200,000+ In A Year
It must be remembered that alongside many of the new routes into Britain, and the weakening of old routes, there are often also rights for family members and dependants to come to the UK with minimal control over where and if they work, their English language ability and immediate access to healthcare and education. As a rude reminder of this fact, the latest immigration figures from the Home Office showed a huge rise in immigration by dependants (spouses, partners and children) of those entering on other visas. Astonishingly, the number of these granted in the year to March 2022 nearly tripled compared with the previous year (rising markedly from 75,000 to 206,000). Read our full blog on this here.
If you're not on Twitter (we are @MigrationWatch) you may not have seen this remarkable graph which we shared in the following Twitter post: 
Migration Watch in the news
Migration Watch UK once again featured prominently in the nation's press and broadcast media this week. See below:

BBC – Immigration debate on The World This Weekend
'Control? That's the last thing they have, frankly' (Skip to 5.20mins)
GB News: Is immigration too high…?

'There is a difference frankly between work for British workers and a Romanian worker, a Bulgarian worker or an Indian worker for that matter. And it's about time that the government started focusing on providing and paying enough frankly, if the government and these different organisations payed enough they would get all the workers that they needed.'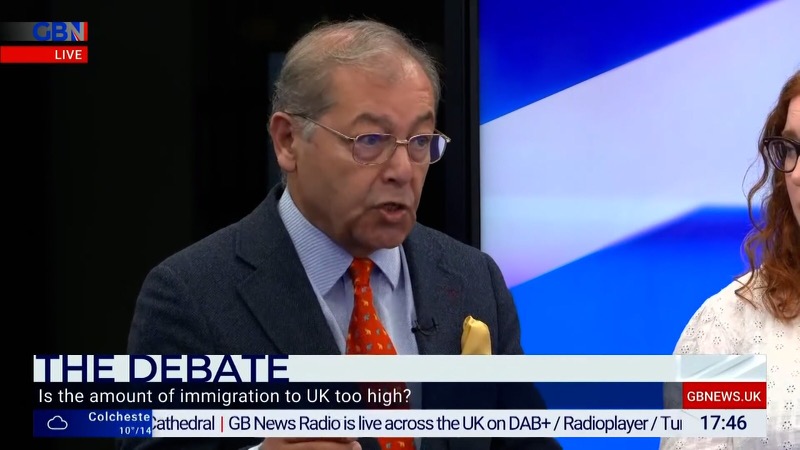 Breitbart: Britons Last: Boris Govt Stifles Opportunities for Aspiring Middle Class with More Visas for Foreign Graduates
'Despite promises of firmer border control, the UK had a record million visa grants in the past year, including skyrocketing study and work immigration and rocketing numbers of family members. Opening the borders even wider will only push the level of mass, uncontrolled immigration even higher.'
And this comment-piece by our chairman Alp Mehmet was in The Conservative Woman:

TCW: As Johnson blusters, immigration soars ever higher

'The government's failure to deliver on pledges to the electorate on immigration while claiming policies are either in our interests (actually, big business's interests) or that they will eventually work, won't wash any more.'
If you are by your TV or radio on Saturday, and have not been involved in Jubilee celebrations, you might turn on GB News to watch/listen to Esther McVey MP and Philip Davies MP interviewing our Chairman Alp Mehmet. 
Make your voice heard
The political class never tire of trying new ways to impose their questionable solutions and self-serving agendas on us. No more is this arrogance evident than in the realm of mass immigration. The people have repeatedly told those running the country that they want a reduction in immigration, and yet, as the latest statistics mentioned above show, record numbers of migrants have been granted visas to enter Britain – all during the worst, and continuing global upheavals since the Second World War. The good news is that the people still have the power to change this. As an example of accountability in action, we were forwarded a letter from a supporter this week from his Conservative MP in which the latter had the temerity to claim that the Conservatives had never promised to reduce immigration, but merely to 'control' it. Well, this post-Brexit gaslighting will not stand, as it is easy to verify that Boris Johnson and his government promised a reduction in immigration as part of their 2019 election manifesto (see p.20). The manifesto clearly states that 'overall numbers will come down'. And there were other occasions when control and reduction were words uttered in the same breath, including by the PM. If you share our concerns, and want to push back against the open borders agenda, please write to your MP here.
We send you our very best wishes for an enjoyable Jubilee Weekend, celebrating the remarkable 70-year reign of our wonderful monarch.
God Save The Queen.