It is often claimed by open border activists that the UK does not have safe and legal routes for refugees which is why people need to cross the Channel illegally. French President Emmanuel Macron recently attacked the UK on these grounds, noting: "There is no legal immigration route." This is a lie.
The table below shows that at least 180,000 people have been granted resettlement in the UK under 11 different 'safe and legal' routes since 2004.
[Separately, the UK has received just under 1.5 million asylum applications (main applicants and dependants) since 1979. Since 2004, there have been 385,000 asylum seekers who came to the UK by other means since 2004, of whom 305,000 appear from Home Office statistics to have remained in the country.]
Adding 305,000 asylum seekers to 180,000 resettled people would bring the total number of asylum seekers and resettled refugees who have come to the UK and stayed since 2004 to 485,000.
The seven resettlement routes highlighted in blue in the below table are currently open, including the Afghan Citizens Resettlement Scheme (ACRS) which opened in early January 2022. At least 20,000 more people are set to come under the ACRS, while over five million are eligible under the Hong Kong visa and unknown numbers under the open-ended Afghan Relocation and Assistance Policy (ARAP).
The three biggest resettlement schemes, accounting for 157,500 people, have been 1) the Hong Kong Pathway to Citizenship 2) Refugee Family Reunion 3) the Vulnerable Persons Resettlement Scheme (from Syria and surrounding countries).
The 20,000 more planned to come by 2026 of course does not include those who will come via the Hong Kong pathway to citizenship and the ARAP routes both of which have no cap or time limit. There had been over 100,000 applications to ARAP from when it opened in April 2021 until early January 2022.
12,000 or so Afghans are currently housed in hotels (in addition to another 25,000 asylum claimants, including many of those arriving without permission by boat) with Priti Patel telling a Parliamentary Committee that 'we simply don't have the infrastructure' to house new arrivals.
Since 2016, the UK resettled more refugees from outside Europe than any other European country.
See below the table for details of each scheme.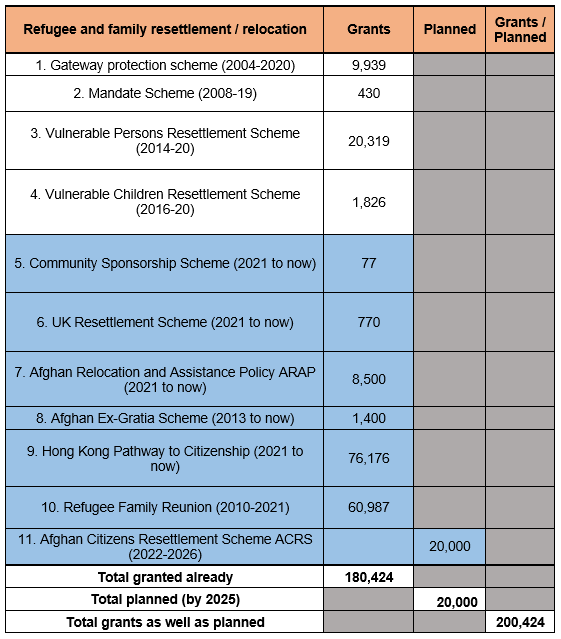 Gateway Protection Scheme = This route was opened in 2004 and was operated by UK Visas and Immigration in partnership with the United Nations High Commissioner for Refugees (UNHCR). The programme offered a legal route for up to 750 refugees to settle in the UK each year, and was completely separate from the standard procedure for claiming asylum. Applications for resettlement under this programme were made to the UNHCR, which refers them to us. Applications could not be made directly to the UK government, to British diplomatic posts abroad or through other international organisations. All applications were assessed individually on their merits.
Mandate Scheme (for refugees with family members in the UK) = The Mandate Resettlement Scheme was a global scheme that ran from 2004 to 2019 which resettled recognised refugees with a close family member in the UK who was willing to accommodate them. Beneficiaries of the Mandate scheme needed to have been recognised as refugees by UNHCR and judged by them to be in need of resettlement. The refugee must have been a minor child, spouse, or parent or grandparent aged over 65 of someone settled in the UK, or who had limited leave to remain in a category leading to settlement, who was willing to accommodate and support them. The UK relative did not need to hold refugee status. The government only considered wider family members (e.g. adult siblings) in exceptional circumstances
The Vulnerable Persons Resettlement Scheme (VPRS) was launched in January 2014 for refugees of any nationality still in the Middle East and North Africa region (i.e. in Egypt, Iraq, Jordan, Lebanon and Turkey) that have fled Syria because of the current conflict (i.e. after March 2011). Over 20,000 people were resettled in the UK under this scheme.
The Vulnerable Children's Resettlement Scheme (VCRS) was launched in 2016, with the aim of resettling up to 3,000 'at-risk' refugee children from the Middle East and North Africa region, including their families. The government says it worked closely with UNHCR to design the scheme and on their recommendation the scheme did not solely target unaccompanied children, but also extended to vulnerable children at risk, such as those threatened with child labour, child marriage and other forms of abuse or exploitation. It was open to all at risk groups and nationalities within the region.
The Community Sponsorship Scheme (CSS) enables community groups to directly welcome and support a resettled family into their local community. The Scheme was established in response to the desire of civil society to support refugees and is an example of effective government and civil society collaboration. Community Sponsorship is accessible to refugees under the same criteria as the UKRS (see above). Refugees resettled through the Community Sponsorship Scheme complement those resettled to local authorities through the UKRS (see number 6 below).
UK Resettlement Scheme (UKRS). In June 2019, the Home Office announced a continued commitment to resettlement with a new global scheme to start in 2020. In the first year of operation, we will aim to resettle in the region of 5000 of the world's most vulnerable refugees. This consolidates the Vulnerable Persons' Resettlement Scheme, the Vulnerable Children's Resettlement Scheme and the Gateway Protection Programme into one global scheme. The Government has said: "The new programme will be simpler to operate and provide greater consistency in the way that the UK Government resettles refugees. It will broaden the geographical focus beyond the Middle East and North Africa. A new process for emergency resettlement will also be developed, allowing the UK to respond quickly to instances when there is a heightened need for protection, providing a faster route to resettlement where lives are at risk."
Afghan Relocation and Assistance Policy (ARAP). This is now open to any current or former staff employed directly by the government in Afghanistan since 2001, who are assessed to be at serious risk of threat to life, regardless of employment status or length of time served. The scheme is open-ended and there is no numerical limit. The policy provides for the main applicant to bring their close family members (spouse and under 18 children) and they will be granted Indefinite Leave to Remain. Other family may be come in exceptional circumstances. The scheme opened in April 2021. The first ARAP flight was on 22 June 2021. Since then, around 7,000 Locally Employed Staff and their family members have been relocated. Other arrivals included 500 'special cases' evacuated in August 2021 who were identified as being particularly at risk, including female politicians, members of the LGBT community, women's rights activists and judges and Chevening scholars (see government factsheet).
Afghan Ex-Gratia Resettlement and Redundancy Scheme – In 2012 the government introduced this resettlement scheme for working staff who had been in post working directly for the UK Government. This eventually covered those who worked for the UK on or after 1 May 2006. The scheme was meant to be reserved for 'the most serious cases'. Applicants also had to have served more than 12 months when they were made redundant or resigned.
Hong Kong Pathway to Citizenship. On 31 January 2021, the UK opened a new route for Hong Kong British National (Overseas) citizens (BNOs) and their close family members. Under the new route, an estimated 5.4 million Hong Kong residents will be eligible to move to the UK and eventually become British citizens.
Refugee Family Reunion: The UK allows an adult granted refugee status or humanitarian protection to be joined in the UK by their spouse or partner and any of their children who are under 18, if they formed a part of the family unit before the refugee fled their country.
Afghan Citizens Resettlement Scheme (ACRS). This was announced in August 2021 but began operation in early January 2022 with the first families arriving that month. 20,000 people will be allowed to resettle in the UK over the course of five years. 56 members of the Home Office staff are allocated to run this scheme (see government factsheet).