The biggest story this week didn't turn out to be 'Freedom Day' – mainly because it wasn't – but the mayhem on the Channel. This week has seen record numbers crossing over from France. On Monday 430 people came, 287 followed on Tuesday and by mid-week the daily count was 219. The total for the year is now over 8,500, compared to just over three thousand this time last year. At this rate, we are heading for just under 25,000 illegal entrants by the end of the year. To keep up to date, see our Tracker.
We wrote a paper in 2020 on how our asylum system is overwhelmed and abused, and we submitted a formal response with our recommendations on what needed to be done to the government's plan for the asylum system published in March. The UK has an honourable record in providing refuge for those fleeing persecution and torture, in other words, genuine seekers of asylum. Indeed, Britain was largely responsible for drawing up the 1951 Refugee Convention on the rights and protection of refugees. But the act of claiming asylum does not automatically confer refugee status, as some activists and immigration lawyers would have you believe. The fact is, many are not while those who could be have come from a safe country (sometimes having passed through a succession of safe countries) to claim asylum in the UK. This is not what the 1951 Convention was meant for. The chaos in the Channel will only be resolved when we begin to return quickly back to France those who set off from there in dinghies knowing they will be picked up by the Brits and ultimately be allowed to stay. For so long as this continues, the illegal crossings will too, and in increasing numbers.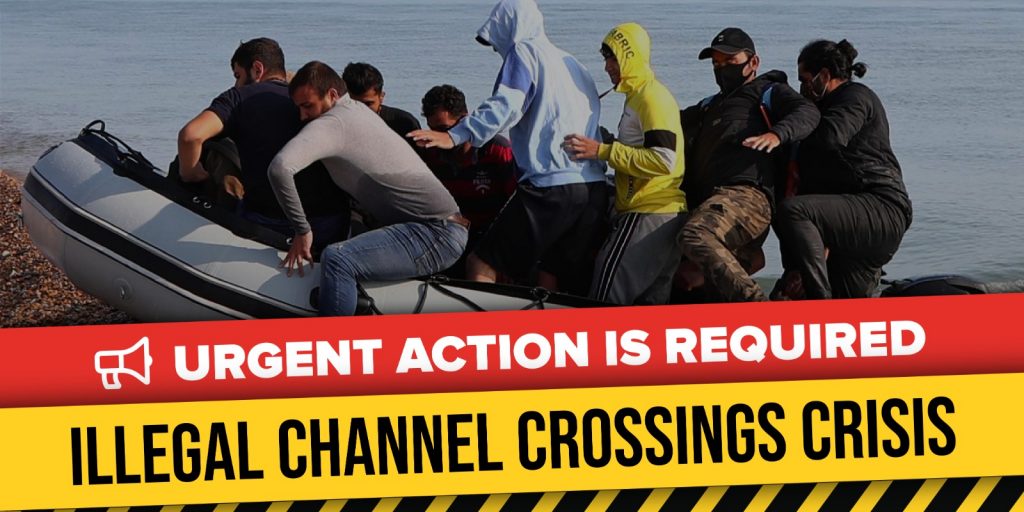 Blog of the week
Is Britain the next stop for failed claimants on a huge asylum shopping spree?
One of the biggest drivers of the current crisis on the Channel is 'asylum shopping', whereby many failed claimants from the continent turn to the UK as a last ditch effort to settle in Europe. Last year, the government noted that 70% of asylum claims by those who crossed the Channel were inadmissible because they were coming from safe countries. The claims of a further 10% were judged to be unfounded. So 80% had no credible claim for asylum in the UK. Another claim by some NGOs is that the only way to break the business model behind the people smugglers is to create new 'safe' routes. Britain already has these, and tens of thousands have been directly resettled since 2015 – more than in any other European country. In February this year the UK Resettlement Scheme was started and extended to 'focus beyond the Middle East and North Africa'. For more, read our blog.
Migration Watch in the news
Our Chairman Alp Mehmet has been in demand this week for his responses to the crisis on the Channel. You can see his appearance on GB News here, and for more see his appearance on Talk Radio.
Also see his comments in these stories:
Breitbart: Record of Failure: More Illegal Boat Migrants Have Landed in Britain This Year Than All of 2020
'We've had promise after promise of a crackdown on illegal immigration and yet our law enforcers stand around doing very little as hundreds cross the Channel on a nearly daily basis. We don't need new laws, heralded by tough, if empty, talk. We need a government that is prepared to challenge the compassion-clad open borders industry by actually enforcing our basic border laws. The British public are losing their patience.'

Mail Online: Incredible pictures show packed migrant boat dwarfed by cross-Channel ferry as dozens more refugees arrive on UK's shores and Britain becomes 'a laughing stock to the rest of Europe'

'It really is absurd to pay the French to do something they should be doing, and ultimately to little effect. It is their responsibility to control their coastline. Their demand for payment to carry out their responsibilities is a disgrace. Perhaps we should insist on a contribution from them to run our Border Force. They are having a laugh.'
We were also quoted in the stories below:
The Times: Channel migrant crossings into Britain hit new record
'Instead of newfound control, we are seeing crossings spiral further out of control. The new legislation must deliver on the government's firm pledges to stem this shocking scandal.'
Mail Online: Three migrant boats arrive in UK already today with 84 on board as daily record is set to be smashed AGAIN after French warship escorted one boat into British waters then left them with baffled GMB news crew
'This was another daily record and we are going to see that surpassed time and time again going forward unless the Government gets serious. Illegal crossings so far this year are now nearly 11 times the number recorded by this point in 2019, just before the Home Secretary promised they would become "infrequent". This is not good enough and the public are fed up to the teeth with this debacle.' 
Make your voice heard
When you scratch the surface of the government's plans for the asylum system, it is difficult not to conclude that little will come of them. Just like the wider immigration strategy that claims to 'take back control' while in fact significantly loosening immigration. You will recall the repeated drum rolls for the control of borders and everything else. And people believed them. In reality, we got weak border rules that are a complete betrayal of what the people voted for. If you care about democracy and want to take action, please do write to your MP and tell him/her that you are not happy.