The major news this week included government announcements of new immigration routes and a further weakening of rules governing the recruitment of health and other staff from abroad (see our Chairman quoted on this in The Times). Linked to this, we received media coverage for our briefing paper highlighting the fact that thousands of UK-based applicants for nursing courses have been rejected even as 'our NHS' was encouraged by government ministers to go on an ever-more profligate overseas hiring binge. Remarkably, over 23,000 UK applicants were turned away just last year in the midst of Covid (see paper and press statement).
The number of reported arrivals via illegal Channel crossing in small boats during the first two months of the year saw a near-90% increase on the same period in 2020 (see graphic below and our quote in the Telegraph). Despite robust talk and promises of tough measures from the government, we are still a very long way from this becoming the 'infrequent phenomenon' we were promised (see our Tracking Station).
Melanie Phillips devoted her Timescolumn to Channel crossings, mirroring much of our thinking on the problem. She said that despite the 'tough talk' the PM and Home Secretary are not addressing the incentives that drive illegal immigration across the Channel. Exactly so, ma'am. Our President and founder Lord Green responded in a letter to the editor that was published in the paper the following day.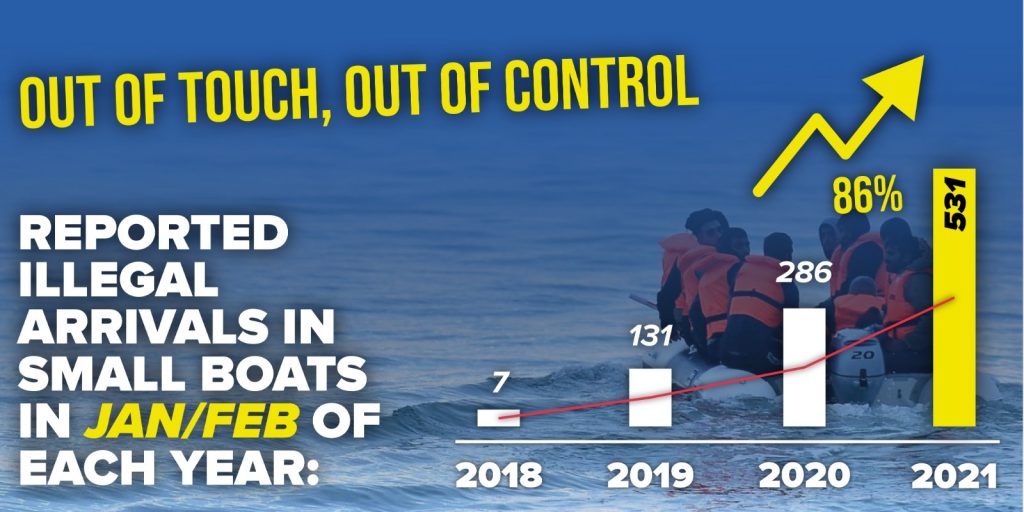 Blog of the week
Our featured blog this week looks at how some serious criminals have managed to dodge deportation after claiming human rights exemptions. Sadly, there are multiple ways by which immigration enforcement can be undermined by the exploitation of human rights law. Not only is this an abuse of measures intended to protect the genuinely vulnerable and persecuted, it harms the safety of law-abiding people, citizens and migrants alike. Read the blog here.
Migration Watch in the media
It's been a busy week in the media for Migration Watch UK. Our Chairman, Alp Mehmet, has once again been in demand. Here are his comments on some of the top stories:
Mail Online: British nursing hopefuls are turned away as NHS recruits migrants, think-tank claims
'Ministers' fine words about investing in young British talent are looking ever-more hollow.'
The Times: We'll be ruthless with people-smuggling thugs, pledges Boris Johnson
'Returning illegal entrants immediately would be a much more effective way of ending this evil trade.'
The Telegraph: Number of Channel migrants reaching UK doubles but no deportation flights since Brexit
'Despite Government efforts, such as they are, the situation gets worse. Indeed, it's a mess. It will only start to improve once illegal arrivals are returned quickly in much greater numbers.'
Breitbart: Chancellor Sunak Expected to Increase Immigration Routes to UK in Budget
'The Treasury never have understood or accepted that the vast majority of the public want less immigration, not more.'
Make your voice heard
If you are concerned about these issues, please do write to your MP. The government's new immigration system is a far cry from what many voters imagined border control would be like after we left the EU. Free Movement is no more, hurrah, but, as we have pointed out before, it will now be far easier to recruit from the rest of the world. Key controls – such as the yearly cap on work permits – have been scrapped. Skills and education visa requirements have been weakened. This means that British workers will now be competing with a global pool of some 600 million+ people for much-needed jobs (see paper). It is an abandonment of the government's promise to deliver 'firmer' immigration control. If this is something that you feel strongly about, please let your local MP know. You can do so here.