Low paid most affected by immigration
March 23, 2009
There is mounting evidence that immigration has had a negative effect on wages at the lower end of the UK labour market. There is also developing evidence of a negative impact on the employment of the UK born workers.
'The body of evidence on this subject is growing and seems to point in one direction,' said Sir Andrew Green, Migrationwatch chairman. 'For example between the first quarter of 2005 and the last quarter of 2008 the number of UK born, aged 16 and over, in employment fell by about 230,000 while the foreign born increased by nearly one million. Thus the large scale immigration of recent years has clearly done nothing to help the low paid and it may very well be affecting their chances of employment.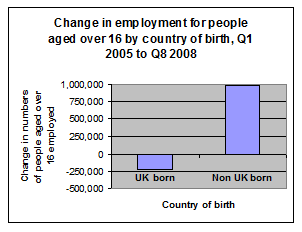 Sir Andrew said the impact of immigration may have been masked during the years of strong economic growth – perhaps partly explaining the rather small impacts found in the studies outlined in the paper.
However, there are now worrying signs that UK born employment is falling while that of foreign born is rising. In the most recent 12 months to October-December 2008 employment of UK born workers fell by 278,000 (1.1%) while employment of non-UK born workers rose by 214,000 (6.0%). Analysis by nationality gives an even stronger effect; it shows a fall in employment of UK nationals by 234,000 (0.9%) and a rise in employment of non-UK nationals of 175,000 (7.9%). 'Immigration on this scale during a period of severe recession could turn out to have a significant impact on the employment of UK natives or nationals,' he said.
In occupations that are low paid the effects of immigration on pay and employment could be mutually reinforcing - immigration could hold pay levels down, thus discouraging native workers and encouraging the continued employment of low paid immigrants, says the report.