Immigration saving the Economy? Nonsense!
Following the Spring Budget Statement, media commentators, as well as the usual open-borders and immigration enthusiasts, leapt on the Chancellor's implied assertion that high net migration will prevent the UK economy from going into recession. We said such a claim was baseless (See here). The claim followed earlier projections from the OBR, derived from recent years' immigration levels. The figures arrived at are little more than guesswork given they appear not to take account of the loose points-based system and the demands from businesses.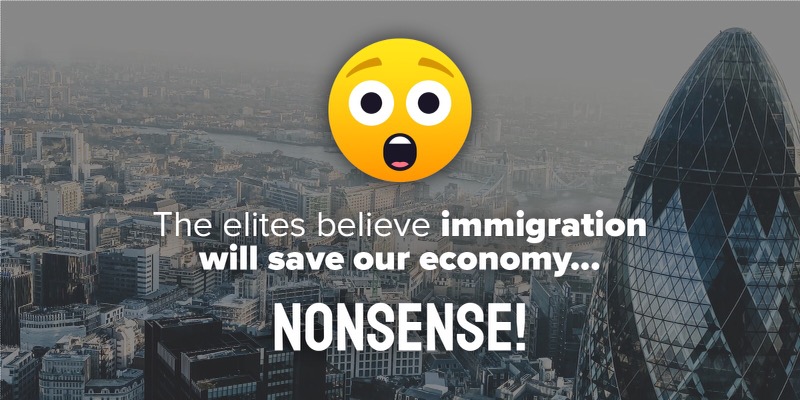 The Chancellor made a virtue of expanding the supply of foreign workers, adding a raft of occupations where industry claims there are shortages. This is on top of future flows from Hong Kong (some 3.5 million are eligible for the path to settlement) and those seeking refuge from elsewhere, plus, of course, illegal immigration or the students who having arrived for studies and who will be here for five or six years with many being joined by dependants (some 20% will settle here).
The trades going onto the Shortage of Occupations List (SOL) include:
Bricklayers, roofers, tilers, slaters, carpenters, joiners and plasterers. Additionally, around 50,000 care workers came to the UK last year.
As one expert said, "migration on this scale contributes a lot to housing demand. We are proposing to import lots of builders to build houses mostly as a consequence of immigration and they themselves will require more builders to supply the additional dwellings which their presence will make necessary."
One final point on the importation of (cheaper) labour from abroad. We asked a roofer in his early 20s what he thought about the need for foreign workers in his trade. His response was that, in his experience, some 60% of those doing the jobs to be listed on the SOL were already from overseas, and predominantly from eastern Europe. But he didn't understand why people said there was a shortage. "There's loads already here" to do the job for less than his firm could do it. He went to to say, "…it's common knowledge that foreign workers are paid less. An experienced UK roofer will get £180-£200 a day, while a foreign worker [he said Romanian] will get £100-£130 a day…An [inexperienced] foreign worker would be given £50-£60 a day. An Englishman [his word] would get £90 a day. A Romanian asks for cash, they only want cash, so they don't get taxed."
Is it really these sort of workers that our economy now depends on?
Our question to the Chancellor and the OBR is, pray, how do such migrant workers help the households who, as the Telegraph noted this week:  '……faced the biggest two-year squeeze in living standards on record?'
Mass immigration may boost overall GDP but the benefits don't impact the pockets of ordinary people.
On another matter (no, not Lineker), while all the post-Budget noise was going on, the government successfully pushed its new 'Illegal Immigration Bill' through its second reading in parliament, much to the howls and screeches of open borders fanatics and progressive liberals on both sides of the House.  
Blog of the week
Responding To Labour Shortages – Is More Immigration The Answer?
Since leaving the European Union and emerging from the Covid-19 Pandemic, the topic of workforce immigration has rarely been far from the headlines. Whether it is increasing the number of agricultural workers, nurses or hospitality staff there has been no end to the calls for ever more immigration. If anything, it seems as if no matter the number of immigrants imported to do whatever job needs doing on any particular day, the demand for more just rises and rises. See the full blog here. 
Migration Watch in the news
The Sun: MIGRANT SURGE 1.6million migrants set to come to Britain in the next five years, figures reveal

'This suggests that the government has no intention of getting a grip of the scale of immigration, as the public want.
'Failing to do so will only lead to further massive, unsustainable population increases.'
You can also read our comment reported in News 24 and the full comment published here.
Talk TV: Will the new UK-France deal make a difference to Channel crossings?
'What I don't see is why the French refuse to accept that dealing with this problem is just as much in their interests as it is in ours.'
GB News: The government's plan has the potential to solve the Channel crisis
'The bill, I think, is certainly a very important step. There's a lot of flaws, there's a lot yet to be done. Which can be rectified as it goes through parliament. As it is, I think it will probably get held up in the courts. Whether we like it or not, the only way that this crisis is going to be resolved is if we start returning people who come here illegally.'
Evening Standard: Campaigners brand Bill to curb Channel crossings 'unethical and impractical'
'As it stands, the small boats Bill has many of the right ingredients to solve the Channel crisis.
'However, it is vital that it is not neutered as it makes its way through Parliament. Enshrining in statute a requirement to detain and remove illegal arrivals is a vital first step.
'Furthermore, establishing the precedent that illegal entrants will be unable to claim asylum or other forms of refuge will serve as a powerful deterrent.
'It is equally important, of course, to plug the huge gaps created by the Human Rights and Modern Slavery Acts. These are all essential elements if the tide of illegal boat arrivals is to be stemmed.'
Make your voice heard
Democracy is working…
This week the new Illegal Immigration Bill had a comfortable passage through parliament, with a large majority at second reading. There is much more drama to come, no doubt, but Conservative MPs know that if they fail to pass the Bill in a robust enough state (there are flaws that must be addressed), it could mean meltdown come the next election.
If you haven't already contacted your MP about the immigration mess we are in, please do so here.