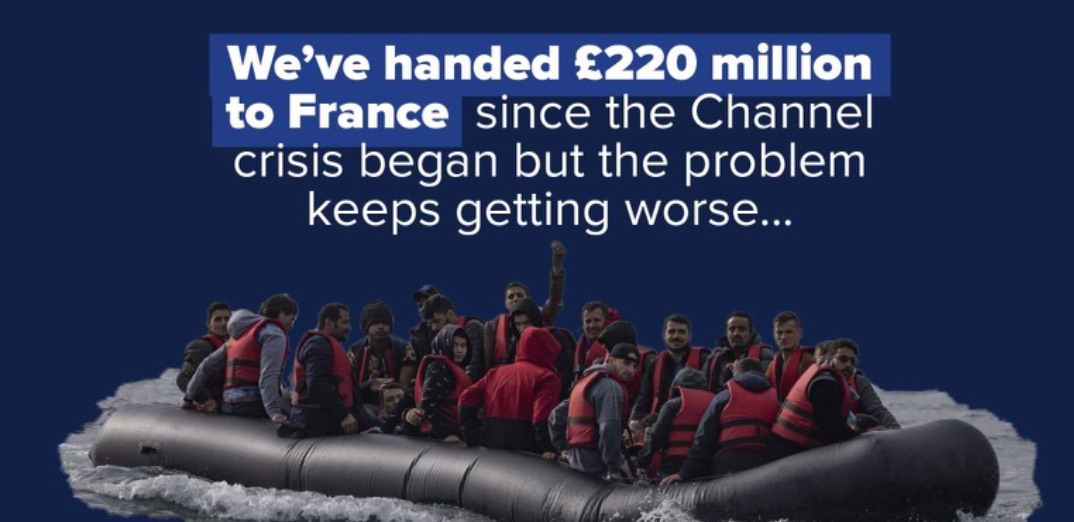 Money won't solve the Channel crisis
This week, another £63 million promised to France as the Channel crisis got worse, followed by some decidedly dodgy figures in the autumn statement 
On Monday came the news that the Home Secretary signed a new agreement to give France a further £63 million in return for more French officers to patrol their own beaches. You couldn't make it up.
The deal was accompanied by the usual fanfare and of course working with France on the Channel crisis is a no brainer but to suggest that this was some sort of groundbreaking deal was a bit of an exaggeration. As our research has shown, Britain has now agreed to pay a total of £220 million to France to help police our borders since 2018 (also see our updated summary), with little in return.
The numbers crossing the Channel illegally go on rising. Over 42,000 this year and more than 80,000 since the start of 2018, while arrivals in 2022 are nearly 50% higher than last year's record 28,500 (see our Tracker.) Time will tell whether this latest hefty sum to France will achieve anything; our feeling is it won't be very much.
Interestingly, we have yet to hear the Prime Minister explicitly back his Home Secretary's pledge to get a grip of the burgeoning chaos that is engulfing our asylum system. Speaking to journalists on the flight to Bali earlier this week, Mr Sunak expressed his determination to tackle the Channel crisis – without much detail about how it will be done, beyond commending the agreement with France. When asked if he supported his Home Secretary's aim to reduce net migration to tens of thousands, the PM glossed over the question with a glib, "I am not going to commit to an arbitrary number", or words to that effect. This did not inspire confidence.
Then on Thursday came the Chancellor's Autumn Statement. Hidden among the figures was the [OBR's] assumption of net migration of roughly 224,000 in 2023 going down to 205,000 per annum from 2026 onwards. What planet are these people living on? We wonder if the OBR's assumptions took account of the ludicrously loose points-based system. And they clearly overlooked the agreement the with India, announced by the PM, which will allow thousands more Indian students to come and stay and work in any job for up to two years after completing their studies.
Dodgy numbers aside, it is the presumption that an additional quarter of a million migrants every year will actually contribute to what is in our pockets. On this, our chairman was quoted in The Times today: 'Alp Mehmet, …. questioned the economic benefits of the less stringent migration targets. "GDP may grow, but GDP per head will remain where it is. And any benefits will be cancelled out by increasing population, as the OBR said in 2014." 

Fact is, immigration cannot be seen simply as a means of bringing in skills we lack (to which a failure to train our own has contributed) or to grow the economy, and add to the exchequer's coffers. As the OBR itself said in 2014, '……. any benefits from GDP growth due to net migration would be cancelled out by the increase in population, meaning GDP per capita would not improve.'

Let's also not forget that according to the 2021 census results, the population growth of the past 12 years was largely driven by annual net migration of about 250,000 when GDP per head, ie productivity, flatlined, while congestion, pressure on housing and services all got much worse. 
Blog of the week
How Uncontrolled Immigration Could Mean Electoral Defeat For The Conservatives
A recent poll of over 2,000 voters by think tank More in Common, revealed that 56% believe immigration has been too high since the Brexit vote of 2016. Only 10% said they want more immigration.
These figures confirmed polls we commissioned last summer – that voters want to see immigration cut, and that the government will lose its Red Wall support if action is not taken to control the borders.
The share saying immigration has been too high since June 2016 is even higher (77%) in Red Wall constituencies, the Midlands and Wales. While, overall, 49% of voters said that housing concerns were behind their immigration concerns and 47% said strains on services, including at GP surgeries, were driving their anxieties.  Read the full blog here.  
Migration Watch in the news
The Times: Plan to cut UK migration to tens of thousands shelved as forecasts increase
Alp Mehmet, the chairman of Migration Watch UK, also questioned the economic benefits of the less stringent migration targets. "GDP may grow, but GDP per head will remain where it is. And any benefits will be cancelled out by increasing population, as the OBR said in 2014," he said.
Metro: £63,000,000 migrant deal with France 'is more of the same', say critics
Alp Mehmet, of Migration Watch, called it 'more of the same' adding: 'It's throwing good money after bad.'
The Mirror: UK's £63million migration deal with France explained – and why it's 'recycled and failed'
Migration Watch UK chairman Alp Mehmet blamed France for "refusing" to take people back, but also branded the deal "more of the same… throwing good money after bad".
Breitbart: Definition of Insanity? UK to Hand France Millions to Stop Boat Migrants… Again
Alp Mehmet of the Migration Watch UK think tank, which has been pressing the Conservatives to keep their serially broken promises on curbing mass migration, legal and illegal, for over a decade now, was also unimpressed by the scheme.
"Working with France on this crisis is all very well but the public will be forgiven for seeing this latest, more-of-the-same, agreement as another one throwing good money after bad," he said in a press release seen by Breitbart London.
"What remains puzzling for most people is why France is willing to stop migrants from setting out from its shores but refuses to take those migrants back if they slip through and are apprehended by the British."
Make your voice heard
Please consider writing to your MP today to remind them of their promises to reduce immigration and control our borders.