The latest irregular migration statistics released on 25th August for the year ending June 2022 revealed the extent to which irregular (what used to be termed illegal) migration, feeds the broken asylum system, since nearly all those entering this way claim asylum.
Leading the clear abuse are those crossing the English Channel illegally via small boats or by being smuggled inside lorries. Additionally, there are those who arrive by air and gain entry by deception.
The statistics show that in total more than 100,000 people have entered the country through unauthorised routes or by deceiving a border official (i.e. enter legally) since the beginning of 2018.
Of those 100,000, 51,881 arrived by small boat (another 12,392 have arrived in the past two months), 17,166 landed at a British airport without proper documents and 31,525 were detected at UK ports or elsewhere within Britain.
This year, up to June there had been at least 17,000 irregular arrivals in the UK. Of that 17,000, 12,747 arrived via small boat, 2,271 landed at a British airport without proper documentation and 147 were otherwise detected at UK ports, such as in lorries.
Following a similar trend, and for the same reasons, recorded detections of irregular immigrants within the UK (in contrast to at a port) has fallen from 7,257 in 2018 to 5,061 in 2021 and is set to be around 3,600 by this year's end, representing a halving of 2018 numbers.
In contrast, detected small boat crossings continue to grow consistently, rising from 299 in 2018 to 12,747 up to June this year, having reached a total of 28,526 in 2021. Our Illegal Channel Crossing Tracker shows figures this year are currently running at close to double the 2021 rate.
Furthermore, we are already on the brink of surpassing 2021's arrivals with four months in the year yet to go (November was by far last year's busiest month) meaning that if crossings continue at the current rate, we could see well over 50,000 arriving by boat alone.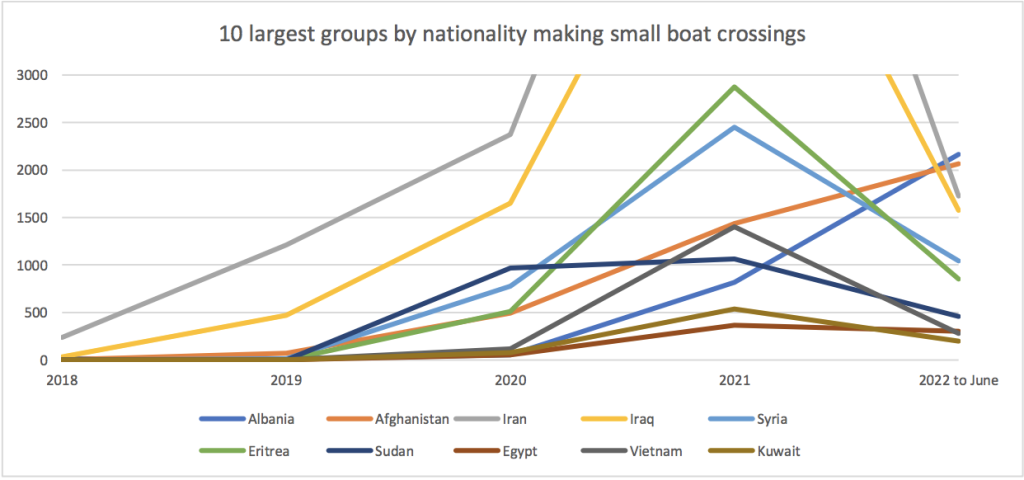 The data also shows that the two largest groups making the crossings this year were Albanians and Afghans, each making up 18 per cent, with other prominent groups coming from the Middle East and North or East Africa.
The nationalities making the crossings have changed in recent years. For example, the number of Albanians has gone from just 0.6 per cent in 2020 to 2.8 per cent last year and 18 per cent up to June this year.
The data also showed that 80 per cent of crossees were men, about half of whom were aged 25-39.
Of the total, 1,866 were under 18 (no further disaggregation is made), although as new data shows, nearly half of those claiming to be minors when claiming asylum in recent years later turned out to be adults.
It is clear then that illegal Channel crossings continue to grow as a method of entry, and threats of eventual removal to Rwanda are proving little deterrent to those making the crossings.