Lots of words on immigration once again this week from the government in the Queen's Speech. We heard how Her Majesty's Government was going to fulfil the will of the people and put an end to illegal crossings on the Channel. As Brenda from Bristol might say, "what, again?". As we said, the government's litany of broken promises and track record of dismal performance on immigration, especially enforcement, is why we remain sceptical while hoping that this time promises are kept. Behind the headlines is a policy mess worsened by the fact that deep down there is a massive split between our political class and what the people actually want. Leftward-leaning (we'll refrain from calling them woke) politicians and commentators never tire of telling us that after Brexit people are not concerned about high immigration. The truth is, after a two years of pandemic distortions and an absence of data on what has been happening, it's no wonder that said commentariat jumps on results of skewed polling in aid of their specious claims. The fact is that the public, we believe some 30 million of them, want reductions in immigration and sensible control to preserve and protect the quality of life that they believe is threatened by mass, uncontrolled immigration, for that is what we still have.
Blog of the week
Some of what we heard in the Queen's Speech was music to many ears. Dangerous foreign criminals have been able to seize on parts of the European Convention on Human Rights – enshrined in UK law by the Human Rights Act – as a means of remaining here when it was in the clear public interest that they be removed. This is an abuse of human rights law and greatly undermines public safety. It's an affront to law-abiding Britons. As a result of crumbling enforcement, the number of foreign criminals subject to deportation living in UK communities has risen from 4,000 in 2012 to 11,000 in 2021. We welcome plans to reform Britain's human rights legislation, but it must come hand in hand with moves to crack down on other pull factors that make bad actors feel they can exploit the good faith of the British people. Read our full blog here.  
Migration Watch in the news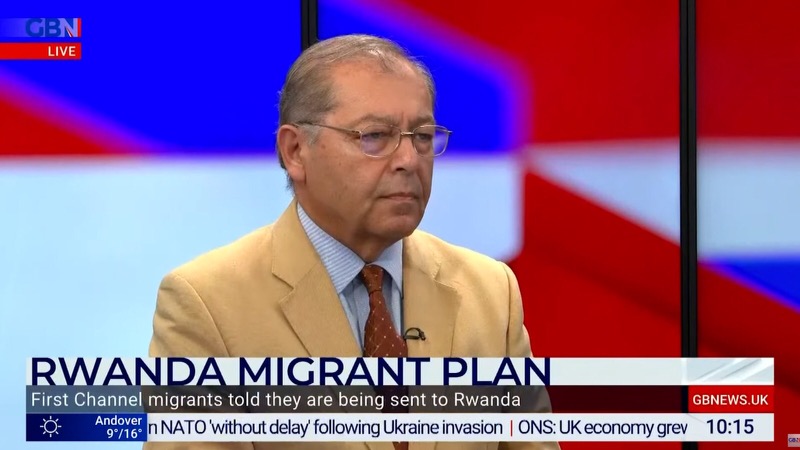 Our response to the Queen's Speech was included in the summary of reactions in Conservative Home, and you can view the article here. This also was covered by Bournbrook magazine here.   

See below for our Chairman Alp Mehmet's appearances in the national media this week:
GB News: Will Rwanda solve the illegal Channel crossings crisis?
'Rwanda was never going to be the answer on its own, it's part of the solution.'
GB NEWS: Nearly 7 million migrants have registered with a GP since 2010
Alp spoke to Nigel Farage about the shocking NHS statistics, adding: 'I'm absolutely certain that the figures we've heard already are if anything, undercounting what is really going on.'
You can see a full write up of this discussion on GB News here.
And see below for one more reaction to the week's news:
Telegraph: Toddlers nailed into 'coffin-like' wardrobes by people smugglers
'There could not be a clearer, more horrifying illustration of what the failure to police our borders properly means. The open borders brigade would do well to examine their consciences as to the gangsterism and human exploitation they are effectively encouraging by their being hell-bent on thwarting sensible border controls.' 
Make your voice heard
The multiculturalists, diversifiers, identitarian ultras and open borders advocates have levered themselves into positions of authority and control throughout our institutions. They did it initially via the Trojan horse mechanism, as Gerard Docherty writes in the always excellent TCW. We really must challenge the wilful and malevolent intent of social engineers bent on reshaping our country and its foundations. At Migration Watch we are determined to play our part by continuing to battle for policies that result in sound borders and much lower levels of immigration; what millions of people across Britain want. We know that the same people feel as betrayed as we do given that the government's post-Brexit immigration policies have not controlled and reduced immigration in the way we were promised in 2019. Making it easier for people in 80% of the world's countries to come to Britain to work, with no limits and no prioritisation of British workers, was not what the public wanted or expected. If you feel as strongly as we do about this, pease click here to make your voice heard.