Collapsing enforcement and the present border chaos threatens the safety of families in the UK.
This is because, in the midst of huge abuse of human rights law, removals of high harm individuals have plummeted. New government statistics show that enforced removals of the highest harm immigration offenders and foreign criminals have fallen from 2,200 to less than 1,000 in the past decade.  (To see the figures, click here, go to return summary tables in link and select tab 'Ret_06').
The number of serious foreign criminals (foreign national offenders or FNOs) who have been removed from the UK each year has plummeted from 6,200 in 2016 to 2,700 in 2021.
Meanwhile the number of serious foreign criminals living in communities among families has nearly tripled since 2012.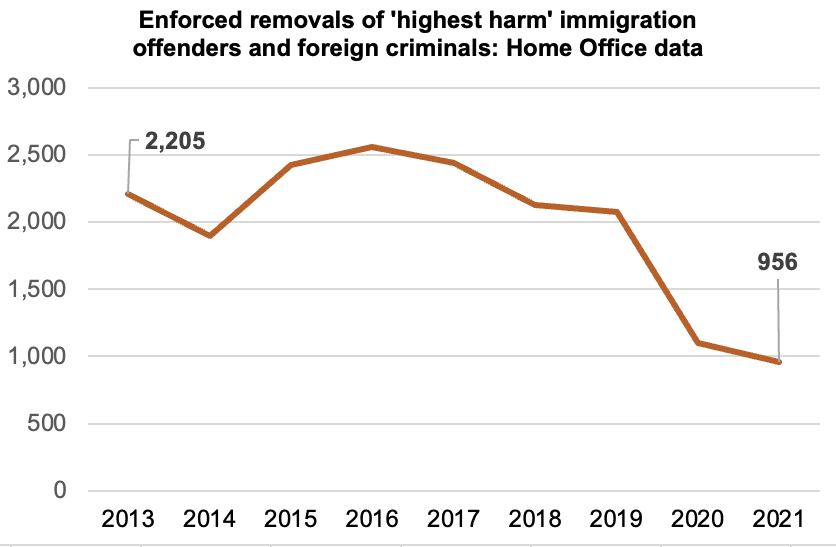 The Home Office notes: "'Higher harm' assessments include people who have committed serious criminal and immigration offences". These include those who pose a threat to the public.
According to a 2014 National Audit Office report, 1 in 6 foreign national offenders living in the community abscond. It also noted that 15% of just under 400 foreign national offenders who absconded were 'high harm' offenders. See p. 8 of report.
There are other concerning trends with regard to the growing collapse of enforcement:
The number of foreign criminals released in the community each year is now approaching 3,000 per annum – up from just over 1,300 in 2012 (see graph below).
In 3/4 of cases in 2021, the reason for release was because an immigration judge granted bail.
The total number of foreign criminals subject to deportation has now topped 11,300 (see graph below) – nearly tripling in just a decade.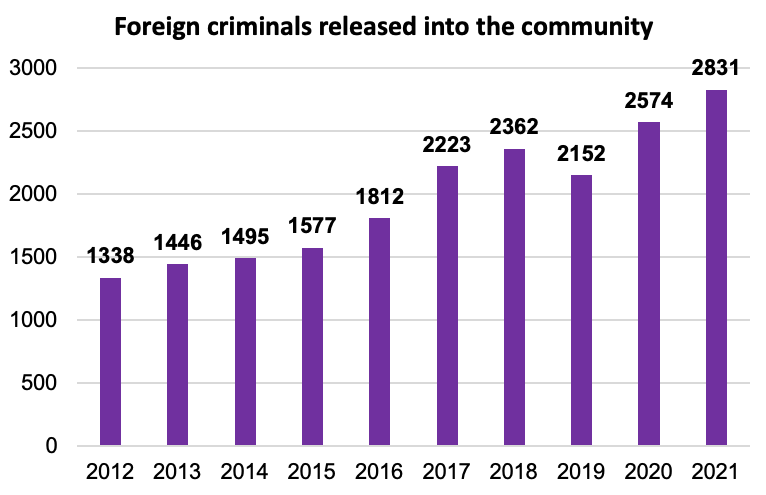 Additional detail:
According to government guidance, foreign nationals may [classified as high harm] 'where the subject holds valid immigration leave or is a European Economic Area (EEA) national, is the subject of active police interest and there is evidence that their conduct meets the definition of 'High Harm' due to:
the provision of disclosable police material evidencing a current and ongoing threat to the public
persistent criminal activity that causes harm to the wider community – as a guide, this could be evidenced by 5 or more convictions within the previous 3 years including non-custodial sentences
has no valid immigration leave and is subject to active police interest, which would make the subject a priority for immigration enforcement action to remove
Foreign National Offenders (FNOs) are considered as 'High Harm' cases where their conduct incurs significant adverse impact, whether physical, emotional or financial, upon individuals or the wider community.
The harms matrix was introduced at the same time as the UK Borders Act 2007.
The latter stated that deportation of all FNOs convicted in the UK of an offence and sentenced to at least 12 months imprisonment would automatically be considered as conducive to the public good and that in these cases the Secretary of State is obliged to make deportation.