Taxpayers being forced to fork out approaching two billion per year on hotel rooms for migrants including thousands of illegal arrivals.
The cost is about a £1 billion per year for 25,000 asylum claimants (including boat crossers).
Another half a billion is being spent housing 12,000 Afghan refugees in hotels
Nearly £2 billion per year is being spent on hotel rooms for migrants (£4.7 million per day).
Recently, the government confirmed that, between April 2021 and March 2022, just under £1 billion was spent on hotel accommodation for 25,000 asylum seekers. More has likely spent since then – with illegal boat arrivals between April and mid-June totalling well over 5,000 – see our Channel Tracking Station.
The graph below shows how the number of asylum claimants in so-called initial or contingency accommodation following arrival (receiving temporary support) has risen substantially since 2018.
Figure 1: Asylum seekers receiving temporary support under Section 98 of the Immigration and Asylum Act 1999. Home Office statistics, May 2022.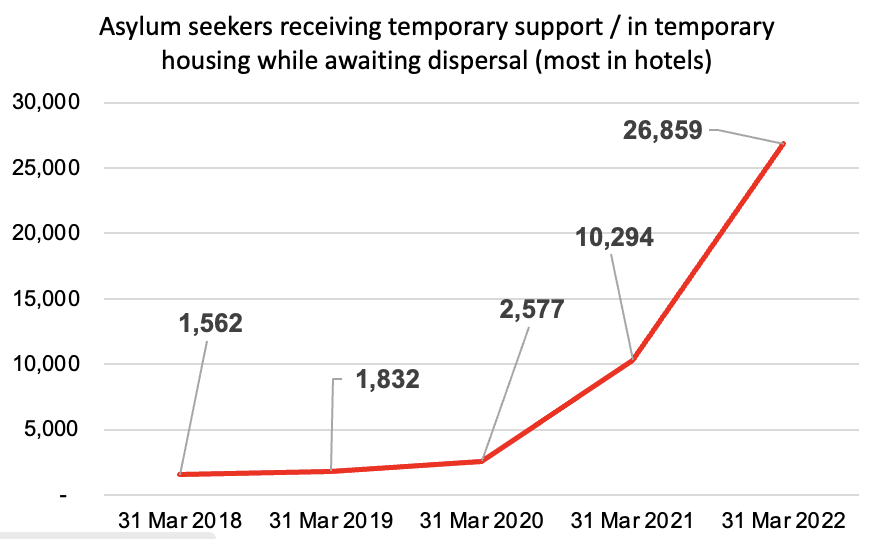 Yet the total number of migrants in hotels is now approaching 40,000 (when 12,000 or more Afghan refugees are added).
This total is nearly four times more than the number at the beginning of 2021 which was about 8,000. This adds to the cost of our overwhelmed and massively abused asylum system (see our recent briefing paper on this here).
Meanwhile, the government has confirmed that some Afghans were refusing to leave hotels and move to permanent homes in certain parts of the country such as Scotland or Wales, meaning the sky-high bills for taxpayers will continue (see report).
The news comes as the UK faces a huge housing crisis with homelessness on the rise and tenants facing the fastest rent rise in five years (see media report).
It was also reported that councils are being given grants to buy family homes to house refugees. The question we have is: What about the people already on housing lists? Some have been waiting nearly 10 years.
As an MP told Parliament: "The impact on housing pressure at local level could cause… tensions if there is resentment about refugees receiving housing… at a time of acute affordable housing shortage." (Hansard).
So during a health and housing crisis, already-congested communities are being further overwhelmed, in parts of the country where residents are increasingly struggling to make ends meet and get on the housing ladder.
Previously, a senior civil servant told MPs that the cost was £1.2 million a day, equivalent to £438 million per year, as Home Secretary Priti Patel was quizzed by MPs on Channel migrant crossings (see transcript).
However, in a statement the Home Office revealed that the true figure was more likely to be £4.7 million per day, comprising £3.5 million per day for hotels for 25,000 asylum seekers (just over a billion per year), largely comprising Channel migrants, and £1.2 million per day (about half a million per year) for 12,000 Afghan refugees evacuated from Kabul.
So the government estimate of the total cost of asylum claimants and refugees in hotels is £1.7 billion per year.
The Home Office says it is close to a new deal with local councils to disperse asylum seekers. In addition, ministers are proposing to house up to 30,000 Channel migrants in temporary camps built by the army.