Official figures released this week by the Office for National Statistics tell us that there has been a decrease of 813,000 in payrolled employees since the first 'lockdown' started last year, and 53% per cent of this is due to fewer people under 25 being employed. On top of this 436,000 drop in payroll employment for young people, there are 828,000 remaining on furlough. The question is, how many of their jobs will survive? This crisis continues in the wake of the government introducing changes that have opened up 150 trades and professions to new foreign competition.
This huge weakening of immigration control (done under the cover of 'Brexit') removed a crucial cap on work visas, lowered skills and educational thresholds for immigrant workers and abolished a key safeguard for UK jobseekers, allowing employers to overlook them completely. See our paper. At a time when young British people are facing a massive contraction in jobs and opportunities, the fact that employers are not obliged to give priority to home-grown jobseekers is a scandal. To add insult to injury, the government is additionally about to allow an unlimited number of foreign ex-students to take jobs whatever the pay level, even as the number of young people on Universal Credit stays near a million.
We must look after our own young people and invest in their skills, talent and future. We will not let this abandonment of our young people go unchecked.
And this is what we have been focusing on this week.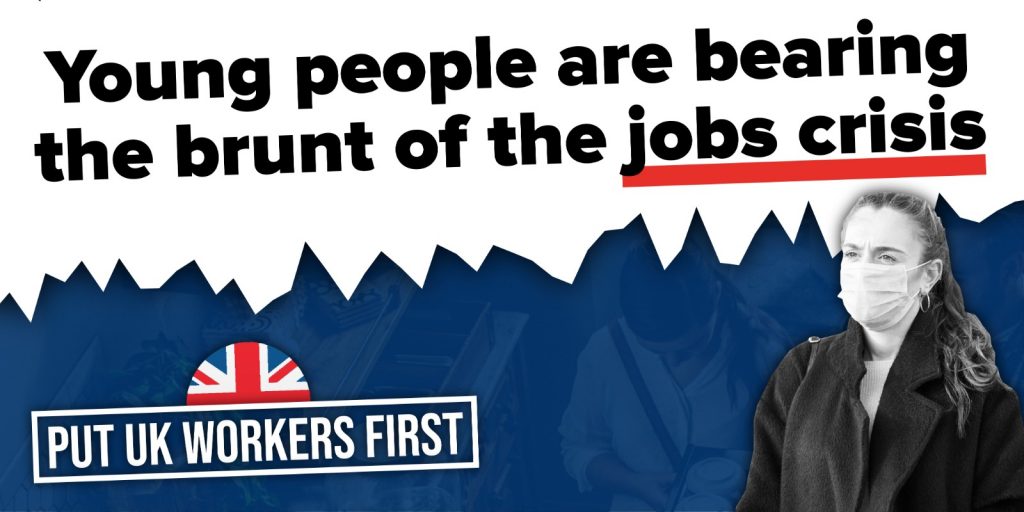 Blog of the week
We published a blog on the dreadful consequences the failure to enforce immigration law. We list ten examples of crimes committed by dangerous thugs who should not have been here at all. Opportunist lawyers and the abuse of human rights laws have been the catalyst for so many of the life-changing attacks. How many of the victims might have been spared pain and suffering had the law been enforced properly? Read the full blog here.
Migration Watch in the media
Our Chairman Alp Mehmet has once again been in the media this week. See his comments below.
Telegraph: Illegal immigration 'crackdown' nets only 71 prosecutions from 17,000 caught
'While 100,000 people were convicted for failure to pay the TV licence, the latest full-year (2020-21) figure for convictions for illegal entry or overstaying was 48.
'If that is an indication of where the Government's priorities lie, no wonder they continue to fail to deal with the massive problem of illegal immigration.'
Times: Number of EU migrants 100,000 a year higher over past decade, claims UK study
'Hidden in the announcement is that net migration peaked at over a third of a million in the year to February 2020. Immigration is clearly still very high but even this inflow could rise sharply as the government's major loosening of the immigration system takes effect. This is not the control that the electorate was promised.'
And another reaction to one of the major stories this week:
Mail Online: Up to 100 more migrants arrive in UK including 20 who land boat on Kent beach as people smugglers make most of improving weather conditions after 113 made crossing on Monday
'While the government have said they will reform the broken asylum system, with plans to step up enforcement, there is no sign of the flow of illegal entrants easing up. The numbers are continuing to spiral upwards. Pending changes to the law, we could begin by simply enforcing the existing law.'
Alp also wrote a piece for the excellent The Conservative Woman (TCW) website. It can be found here: "Why go after illegal migrants when you can pick on licence fee dodgers?" Do take a look at TCW site, for some of the best blogs around.
And if you want to follow closely the ongoing Channel mayhem, you can do so here at our Channel Tracking Station. It is the only place you will find the latest information on what is happening.
Make your voice heard
The economic crisis is still very much with us. And yet the government has shown no sign of reversing the weakening of many of the important controls on work immigration. Indeed, we read that some members of the Cabinet are pressing the Home Secretary to go further with seasonal workers. What the government should of course be doing is encouraging employers to pay a bit more and improve the working conditions that those from poorer countries are only too keen to accept. It is simply wrong that the government continue to pander to the wishes of big business and the immigration lobby. If you are concerned about these issues, then do please write to your MP by clicking here.