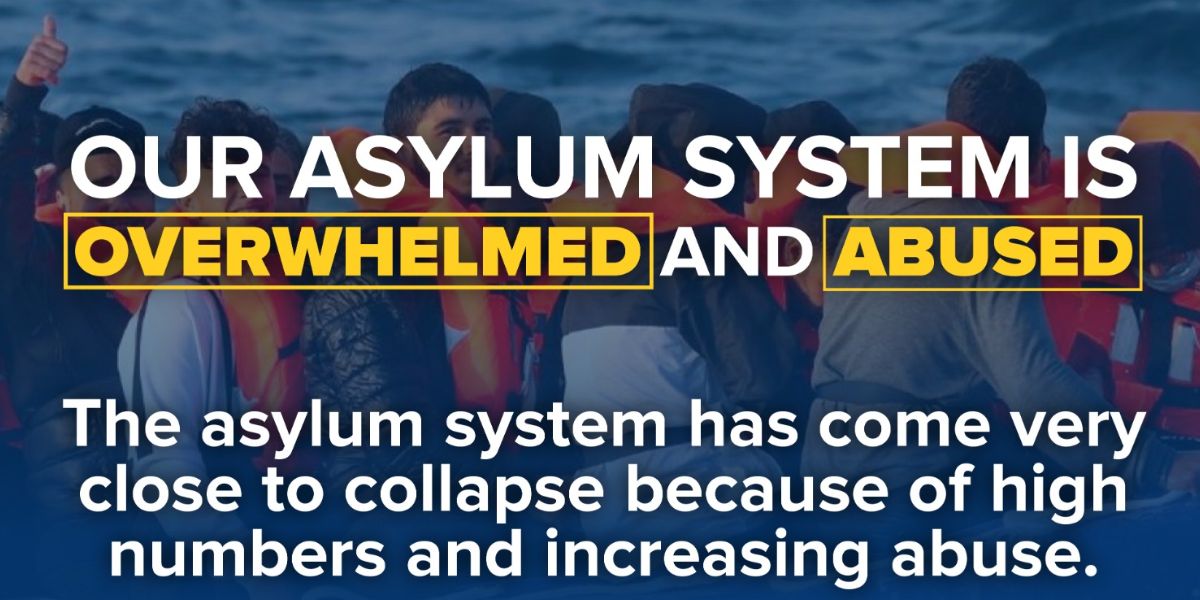 The big news this week has of course been the Home Secretary's presentation to Parliament of the (on the whole, welcome) consultation document for reforming the 'broken' asylum system and to deal with illegal immigration, especially by those arriving in dinghies and the backs of lorries from safe countries. We broadly welcomed it (see our press comment and our analysis of new statistics pointing to rising asylum abuse).
Speedy removal of those who do not qualify for entry will be a key deterrence and will help stem the flow. That the government is now considering ways of putting pressure on governments which refuse or are slow to take back their own citizens, is good news. We should of course take in, through properly regulated and planned schemes, those fleeing persecution or war. But those engaging in 'asylum shopping', who see the asylum route as another immigration avenue must not continue to get away with abusing and gaming the system with the aid of willing lawyers. The system is almost overwhelmed and now costing the tax payer £1.3 bn a year – up from the £1 bn mentioned in most recent paper on this. A few weeks ago, a this blog provided some detail of the rising abuse.
This month, and there are still five days left, over two and half times more people have crossed the Channel illegally than in the first three months of 2020. As ever, we are keeping track of the numbers, and you can see the latest count on our Channel Tracking Station.
Just to go back to the Home Secretary's proposals; they are a good start but it all now depends on what makes it into legislation after the ensuing Bill goes through Parliament. The Home Secretary will not only need to be strong (which we believe she is) but she will also need the support of her colleagues in Parliament and around the Cabinet table. The media coverage and voices raised against the proposals yesterday were a flavour of what is to come. You'd be forgiven if at the end of the day, just watching TV or listening to the radio you were left with the impression that the great majority were against what Priti Patel was proposing. In fact, a poll of more than 10,000 (admittedly) Conservative voters showed that 93% percent believed that those crossing the Channel illegally should not be allowed to apply for asylum. Overall, more than 60% of the public say such people should not be allowed to settle in the UK ((Redfield & Wilton Strategies poll, Aug. 2020, see more on public opinion and immigration). If you agree with them, do let your MP know.
Here is an update of what we have been doing this week at Migration Watch UK.
Blog of the week
On a related note to the new reforms proposed by the Home Secretary, we recently wrote a blog on how activist lawyers exploit Judicial Reviews to thwart deportations and weaken enforcement of asylum laws. An appeal court last year stopped the deportation of 25 foreign-born convicted criminals to Jamaica after their lawyers sought a judicial review. An official review found that only 0.2 per cent of 5,500 judicial review cases since 2012 were successful, with the majority being immigration and asylum cases. The use of legal loopholes such as those exploited by the immigration lobby are a significant hindrance to enforcement of existing laws. You can read the full blog here.
Migration Watch in the media
It will come as no surprise that our Chairman Alp Mehmet has been in demand again this week. See his comments below:
The Telegraph: Modern slavery laws to be overhauled to make them harder for foreign criminals to exploit
'Modern slavery and people trafficking are abominable crimes and we must go to the aid of victims.
'But we must also recognise that measures aimed at helping such people are now being abused by those who simply want to avoid removal. Dangerous foreign criminals must not be allowed to get away with exploiting what appears to have become a gap in our defences.'
Here, you can also see here a clip of Alp addressing the same issue on Talk Radio with the indefatigable Julia Hartley-Brewer. Alp also chatted about the asylum reforms to Andrew Pierce on the Daily Mail podcast this week – you can listen here from 8 mins 59 seconds in.
And our Executive Director Ben Greening was on BBC Radio Kent discussing the new asylum plan. It was a robust and heated exchange, and well worth a listen.
Here are some responses from Alp to other stories in the press this week:
Mail Online: Testing our goodwill: Migrants arrive from areas rife with Covid, but virus checks are haphazard and they're free to stroll Kent streets. No wonder locals say the system is not fit for purpose, writes SUE REID
'There are no easy answers. But is it really too much to ask that our borders are properly protected and that testing is mandatory for anyone illegally crossing the Channel? Not least because the places those crossing are coming from are reported to have a high incidence of the Covid virus? Some common sense from those in authority would not go amiss.'
The Times: Denmark disperses ghettoes with cap on 'non-westerners' to reach 2031 target
'This strikes me as the Danes being cautious and acting in the interests of all citizens. Our leaders could take a close look at the Danish approach, there may well be lessons to be learned.'
Make your voice heard
If this week's immigration news has shown anything it is that governments understand the power of public opinion and will react to it. Priti Patel's rhetoric strongly emphasises the importance of control of our borders. It is important that the words are followed with effective action, and the next step will be to make a greater effort with the enforcement of immigration law. This is happening as a result of the consistent message from the public (i.e. you) being sent to the government. Since a majority unexpectedly (for many of the elite) voted for Brexit, it has dawned on those governing and informing us that ordinary people cannot be ignored forever. A huge number of people have strong concerns about mass immigration and its impact on their communities. That is why we will continue to encourage our supporters to write to their MP and let them know how they feel about the government's plans to loosen non-asylum routes for immigration.

The post-Brexit 'point-based' system will remove a critical cap on work permits for immigrants, reduce skills and earnings thresholds and does not demand that employers give priority to UK jobseekers. This is unacceptable, especially in light of promises of a firmer system after Brexit.

We welcome plans to toughen asylum rules announced this week, but in light of the wider plans for much weaker immigration control, the quiet and sensible majority needs to keep the pressure up.